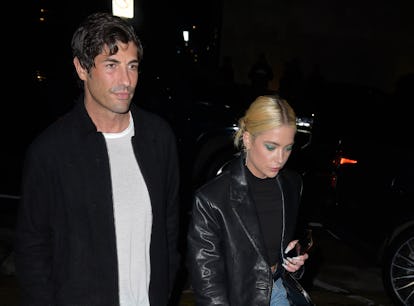 Ashley Benson Reportedly Married Brandon Davis, The Ex Of A Y2K Icon
He was involved in major drama circa 2006.
zerojack/Star Max/GC Images/Getty Images
Ashley Benson has tied the knot, per an Entertainment Tonight report. On Nov. 8, the outlet reported that the Pretty Little Liars star recently married her fiancé Brandon Davis, whose grandfather was a billionaire industrialist with ties to 20th Century Fox and the Beverly Hills Hotel. Word of their marriage comes just two days after Benson seemingly confirmed her pregnancy with a Nov. 6 outing to pick out registry items at Babylist Beverly Hills.
To backtrack a bit, Benson and Davis announced their engagement on Instagram in July 2023, per People. Davis posted a photo of Benson's hand, adorned with her new engagement ring, with the caption, "the love of my life." Benson re-shared the Story on her page, adding, "My best frienddddd, I love you."
Then, on Nov. 4, Benson's mother posted a photo on Instagram that seemingly showed her daughter and Davis' wedding rings. She captioned the post, "October 🍁🍃🎃🤎🍾😊🧀🍇🎂," placing Benson's nuptials sometime in that month.
Dating rumors surrounding the couple first began in January 2023, when they were spotted on dates (including a courtside outing at the Lakers game on Jan. 4). On Feb. 3, a source told People they were, in fact, together. "They have a lot of mutual friends and are both super fun and very social people," an insider said.
Benson previously dated G-Eazy on-and-off for two years before they called it quits for a final time in March 2022, per Us Weekly. Before that, she was tied to model Cara Delevingne, but they broke up in May 2020.
Davis has his own celebrity ex. The oil heir dated The O.C.'s Mischa Barton for over a year before they confirmed their breakup in 2005.
He also played a brief role in Paris Hilton and Lindsay Lohan's infamous early 2000s feud. Davis frequently partied with Hilton during that era — and in 2006, he gave an offensive quote about Lohan to reporters while Hilton stayed quiet but laughed.
While Davis later apologized, and Hilton's rep issued a statement to TMZ saying the comments were "not reflective of Paris' feelings about Lindsay," the incident generated headlines at the time and still gets referenced as a key moment in the saga. (BTW, in 2021, Hilton said there were "no bad vibes" between her and Lohan anymore, so it seems like the two have reconciled.)