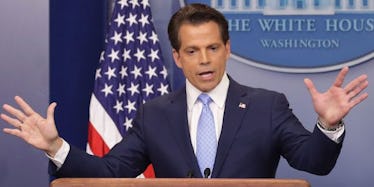 Who Will Play Anthony Scaramucci On 'SNL'? Rob Lowe And Mario Cantone Are Ready
Getty
After Sean Spicer's resignation as director of communications over the weekend, Anthony Scaramucci was appointed as his replacement. The new hire created a lot of commotion among commentators, but outside of the political world, one of the major questions to come up was who is going to play Anthony Scaramucci on Saturday Night Live? Well, now we have a couple of options.
Rob Lowe and Mario Cantone have both thrown their hats into the ring as potential Scaramuccis. After some chatter online about Cantone's resemblance to Scaramucci, the Sex and the City star told Variety he would definitely take the part if SNL offered it to him, adding he already knows the guy and it would be a lot of fun.
But Cantone has some A-list competition for the part. On The View earlier this week, Rob Lowe said he would be on board to play the new director of communications on Saturday Night Live as well after fans online pointed to him as an option.
This whole casting discussion is coming up due to Melissa McCarthy's brilliant stint as Sean Spicer on Saturday Night Live. Despite not being a cast member on the show, McCarthy appeared throughout the past season of the sketch comedy show as an increasingly irate Spicer. The character became one of the most popular of the season, and now that Spicer is out of office, many fans predict SNL will try to recreate the magic with another celebrity not in the cast impersonating Scaramucci.
Then again, SNL could always just go with someone already in their cast. In terms of resemblance, featured players Mikey Day or Alex Moffat would be the likely pick, although they already play Eric and Donald Trump Jr. on the show. Another option could be Colin Jost, who currently serves as head writer and Weekend Update anchor.
Saturday Night Live will premiere its forty-third season later this year, so we'll just have to wait and see who pops up behind the press briefing podium in the premiere.