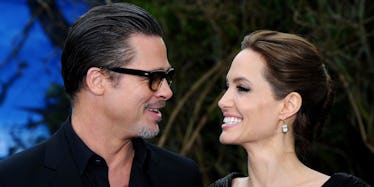 Angelina Jolie Reveals What Filming Sex Scenes With Brad Pitt Is Like
Getty Images
I'm sure sex between Angelina Jolie Pitt and Brad Pitt is pretty dope and stuff when they're by themselves at home, but when it comes to love-making on camera, the 40-year-old actress and director said things could not be weirder.
In a recent interview with Entertainment Weekly, Jolie Pitt spoke about a movie she recently wrote, directed and starred in called "By the Sea."
The film follows a couple, played by Angelina and Brad, vacationing in a French seaside resort seemingly in the hopes of saving their failing marriage.
As couples trying to save their failing marriages tend to do on such vacations, the pair in the film has sex, meaning Angelina and Brad had to do some on-screen boot-knocking.
It wasn't at all sexy, though.
In fact, it was the opposite of sexy. It was the AXE body spray of film stuff.
In the interview, Jolie Pitt revealed,
It's the strangest thing in the world to be lying naked in a bathtub with an iPad that's showing you the shot outside, while your husband is at the door and you're directing him to come in and make love to you, [and do so] in front of a bunch of other men with cameras. I couldn't get out of the bathtub to get to the monitor because the director is naked. We're artists and want to be free, but Brad -- it's his wife. He was on towel duty. He'd hold the towel over me.
That sounds horrible.
This movie and Angelina's scenes where she is nude are milestones for Jolie Pitt as she recently recovered from preventative double-mastectomy surgery.
On a smaller level, she hopes the movie will help women who went through similar surgeries overcome their own body issues.
"By the Sea" releases on Friday.
Citations: Angelina Jolie: Filming Sex Scenes With Brad Pitt Was "Strangest Thing in the World" (Us Weekly), Angelina Jolie Pitt and Brad Pitt 'made as many jokes as possible' while filming By the Sea love scenes (Entertainment Weekly)