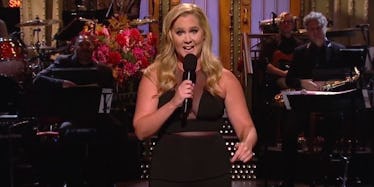 Amy Schumer Hilariously Took On The Kardashians In Her 'SNL' Monologue (Video)
It may be October, but we are very much still in the middle of the summer of Amy.
This year will forever be known as the year Amy Schumer went from a semi-popular comic you may have heard of to one of the biggest names in Hollywood and arguably the voice of our generation.
Be honest for a second, her standup specials speak to us like a Millennial version of the Talmud. "Inside Amy Schumer" makes you applaud the TV even when you're alone in your house, and parts of "Trainwreck" were like watching mini-documentaries about your life.
Not to mention the fact that literally everything she says during press conferences makes us all wish she would stop beating around the bush and just run for president.
On Saturday, Schumer crossed another cultural milestone as she hosted "Saturday Night Live" and I'm going to go on record saying her opening monologue will go down as one of the best opening standup sets in the show's history.
Body image issues, the Kardashians, Bradley Cooper. She talked about it all and it was nothing short of perfection.
All hail the queen.