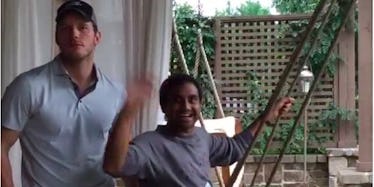 Amy Schumer, JLaw, Aziz Ansari And Chris Pratt Give New Meaning To Squad Goals
I've got a question for you: What do you get when you bring four of the world's funniest (and most likable) performers together in the same city for a weekend?
Answer: FOMO.
You also get a pretty damn good story, and an even better photo op.
I know this because that's exactly what happened when Chris Pratt, Aziz Ansari, Amy Schumer and Jennifer Lawrence got together last weekend in what very well may be the most epic hangout sesh ever.
The funny foursome reportedly got together during a rare mutual day off from work.
Ansari and Schumer were taking a day of rest from the Oddball Comedy Tour, on which they're both performing, while Pratt and Lawrence were taking a day off from the set of "Passengers," a film they're costarring in.
The group spent the day goofing off, snapping selfies and scripting mini Instagram-exclusive short films, all of which were dutifully documented on the social media outlet.
Judging by the onslaught of "likes" and comments on the pics and videos, fans were thrilled to see their favorite stars kicking it together -- but also, totally jealous about it (#FriendshipGoals, amiright?).
In any case, check out the snaps below to feel the full effect of the FOMO, and stay tuned for details on the stars' upcoming projects.
#LifeGoals
#CareerGoals
#FriendshipGoals
Citations: Aziz Ansari Jennifer Lawrence Chris Pratt and Amy Schumer hang out (Mashable)