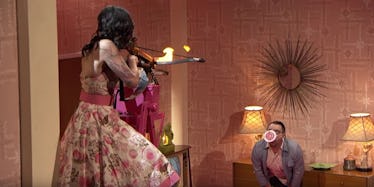 Contestant Got Shot In The Throat With A Fiery Arrow On 'America's Got Talent'
YouTube
A couple of contestants nearly gave "America's Got Talent" viewers a heart attack after performing a stunt gone wrong.
"America's Got Talent" contestants Ryan Stock and AmberLynn Walker had worked on one particular stunt designed specifically for the show.
It involved a bow and flaming arrow, which accidentally hit Stock in the neck. The contestants, who are also engaged, had practiced the stunt countless time before performing it with the world watching.
Ryan Stock, who is also a Canadian stuntman, spoke to People about the mishap, saying,
We had never done it for an audience before, but we've been working on this for the last three months. We put thousands of dollars into this. We did this 10 times a day, every day for three months. We had no mishaps and then we had a malfunction on stage during the live rounds.
Despite having practiced the stunt over and over again, Ryan and AmberLynn did admit it was a bit scary at first.
The first few times it was definitely scary, but we learned to trust the equipment and we learned to trust each other. So neither of us saw this coming.
Immediately after the flaming arrow hit Stock in the throat, he made sure he wasn't on fire before proceeding to check on his fiancée.
Ryan took to Facebook to discuss the stunt, explaining,
I was concerned about Amber. I knew Amber was going to feel bad.
Luckily, he wasn't severely injured. Had the arrow hit Ryan with more force at a more precise angle, he would have suffered a different outcome.
This was not Amber's aim that was the problem. Her laser sight was on target. It appears as though the notch holding the arrow broke and sent the arrow sideways. Fortunately because of how it hit, it wasn't at full power and I walked away with a minor injury.
So, here's how it all went down...
Ryan Stock and fiancée AmberLynn Walker took the stage with a lot in store for the crowd. A ladder, a bow and arrow -- You can just tell this is going to be good!
Ryan started off by announcing that he and Amber had prepared "two brand new, extremely dangerous, never-before-seen stunts." He started off with a sword-swallowing stunt.
This can't end well...
Success!
Ryan then followed up with arrow-swallowing. Yikes!
More success! Maybe things will go smoothly after all.
Finally, the moment we've all been waiting for. The grand finale.
All Amber had to do was hit the target sending the flaming arrow down Ryan's throat...
Something tells me this is going to sting. But Ryan looks ready for whatever comes his way.
Here. We. Go.
Noooooo! The arrow missed the target. Ryan and Amber's long-practiced stunt resulted in a minor injury and a viral video they will cherish forever. Ouch!
Sure, it has to be disheartening for Ryan and AmberLynn after all of that hard work of training for this particular stunt.
But the best part about all of this? Ryan says they will "absolutely" be attempting the wild flaming arrow stunt in the near future!
Check out the video above for a closer look.
Citations: America's Got Talent's Ryan Stock Explains Just What Wrong – Why He Was Shot in the Throat by Flaming Arrow (People)