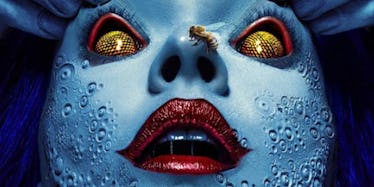 We Finally Know How 'AHS: Cult' Relates To The Election & It's Not What You Think
Instagram
Aside from new Carly Rae Jepsen albums and my birthday every year, there are few things I anticipate as highly as American Horror Story returning to TV every fall. I'm especially excited for this year's season to start in September, but, I gotta admit, I've been very curious about its theme ever since Ryan Murphy announced way back in February it would deal with the 2016 presidential election cycle. Since then, we've learned the new season will be called AHS: Cult, and we've seen plenty of pictures and videos (mostly of f*cked up looking clowns and bees) that don't really scream "political election." Simply put, I'm confused. How do the bees and clowns relate to an election? Why does Evan Peters have blue hair? Luckily, executive producer Alexis Martin Woodall stopped by the Television Critics' Association to talk more about the American Horror Story: Cult election theme and cleared a few things up for us.
Woodall spoke about how the upcoming seventh season might not look exactly how we picture it. She said,
It's not what you think it is — and I'm not trying to be cagey. It's just with all good horror and suspense not knowing is going to be good for you. When Ryan had to make the announcement originally that the season was going to deal with Trump, I think it's more about what's going on in our world around us.
Basically, scrap any hope for a fictionalized Hillary vs. Donald debate; from Woodall's statement, it seems more likely this season will focus on the tension experienced by many during the election months rather than the actual election. While I'm sure that is disappointing to many, the executive producer went on to reassure us all that the essence of AHS will be present, and there will be a "streak of paranoia" running throughout the season — definitely something we're used to seeing with AHS. When asked to describe the upcoming season, she said,
Bloody tension, a well-cooked meal, an exciting trip to a grocery store. It is true to our brand, which is you are going to be in a whole new world all over again, and fall in love with these really special characters and hate yourself for watching it before you go to bed.
TBH, at 26 years old, I can't think of anything more exciting than a trip to the grocery store, so I'm already on board. If that's not enough for you, though, just think of the fact that this season's cast is to ~die~ for. Some of the cast even appeared alongside Woodall at the TCA panel. Indeed, one of AHS's newest family members, Alison Pill, spoke about the season as well, saying,
This is straight-up horror drama I'd say. It's definitely less of my comedic side and more of my dark side.
Now that it seems like the actual theme is cleared up a bit, there's not much left to do other than wait for the season to premiere on Sept. 5. Judging by the comments above, I think I'll be watching TV through my fingers for the next few Wednesdays.