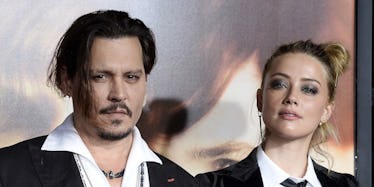 Amber Heard Just Accused Johnny Depp Of More Abuse In A New Lawsuit
REUTERS
In a defamation lawsuit recently filed against comedian Doug Stanhope, Amber Heard levied new allegations of abuse against husband Johnny Depp and his publicity team.
Stanhope published an article on The Wrap accusing Heard of blackmailing Depp and essentially fabricating the abuse, thus prompting Heard's lawsuit.
Stanhope wrote,
Any one of my friends will tell you I always call them out on bullsh*t. Abusing women is bullsh*t. Johnny doesn't abuse anyone... Johnny Depp got used, manipulated, set up and made to look like an assh*le. And he saw it coming and didn't or couldn't do anything to stop it.
Heard responded through her attorney with a separate article on The Wrap denying the charges, and now she's suing Stanhope.
With this lawsuit, all kinds of new accusations came out about Depp and Heard's relationship, and whether they're true or not, they're not pretty.
According to PEOPLE, which received the court filing, Heard claimed a few bombshells in her lawsuit. One of the bigger accusations basically just dialed up what Heard has been alleging about Depp, namely, he's physically and verbally abused her multiple times.
The court documents said,
During the course of his relationship with Heard, Depp has repeatedly been physically and verbally abusive towards her... Depp has hit and kicked Heard on numerous occasions, has thrown objects at her, at one point nearly suffocated her to the point where she feared for her life.
Heard also alleged in the suit that Depp was an alcoholic and drug addict.
The lawsuit stated,
Depp is an alcoholic and drug addict, and these violent episodes occurred mostly after Depp had relapsed into a cycle of substance abuse. His drug and alcohol abuse has increased dramatically in recent years, as has his violent behavior.
But, there were two surprising revelations in the court filing. First, Heard claimed throughout all of this torture and abuse that she still loved Depp and continued to try to salvage their relationship.
The documents said,
Heard repeatedly returned to Depp, despite his verbal and physical mistreatment of her, hoping optimistically that the man she married would change his behavior... Each time Heard returned, however, within months, the cycle of substance abuse and violence repeated... [Heard] gave him numerous chances to change his behavior, and end the cycle of alcoholism, drug abuse, and physical and verbal abuse of her. Yet Depp would not and has not changed his behavior, precipitating Heard to file for divorce and seek a restraining order.
Not only that, but the documents claim Depp's publicity team, which would apparently include Doug Stanhope, is now undertaking a malicious and vicious campaign to smear Heard's name and seemingly bury the allegations of abuse in a miasma of misinformation.
The lawsuit alleged,
As a result of this coordinated, malicious campaign, a number of news organizations have repeated these false statements, disparaging Heard and harming her public reputation and career.
The documents elaborated to suggest Depp's publicity people "did not care, because their only concern was helping Depp by trashing the reputation of his wife, who loved Depp, even though she had been repeatedly physically and verbally abused by him."
In turn, Depp's attorney responded that Heard was only crying abuse to essentially speed up a divorce settlement, according to PEOPLE. Heard told people she intends to donate any money from the lawsuit to a domestic violence charity in Arizona, so at least it appears money is not the object here.
I don't know what is true and what isn't true, but I wasn't lying when I said the details weren't pretty.
Citations: Amber Heard Says Johnny Depp 'Nearly Suffocated' Her – Plus More Bombshells from Her Court Filing (PEOPLE), Johnny Depp Is Being Blackmailed by Amber Heard – Here's How I Know (Guest Column) (The Wrap), Amber Heard Denies 'Unequivocally False' Claim That She is Blackmailing Johnny Depp (Exclusive) (The Wrap)