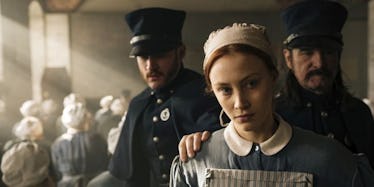 If You Love 'The Handmaid's Tale,' You Need To Watch This New Netflix Series
Netflix
Last spring, Hulu saw their first major success in original streaming programs with the Elisabeth Moss-lead show The Handmaid's Tale. Based on the 1985 novel by Margaret Atwood, it depicted a dystopian world not far into the future, which felt extra timely with the election of Trump. Not to be outdone, Netflix has their own Atwood based adaptation coming this November, based on another of Atwood's novels. The Alias Grace Netflix trailer introduces a show based on the 1996 novel of the same name.
Like The Handmaid's Tale, Alias Grace is a work of speculative fiction. But it's not a futuristic dystopia that could or could not happen if we don't stay awake and alert. Instead it's based on the true events of the past, almost two hundred years ago.
Here's the synopsis:
The story of Alias Grace follows Grace Marks, a poor, young Irish immigrant and domestic servant in Upper Canada who, along with stable hand James McDermott, was convicted of the brutal murders of their employer, Thomas Kinnear, and his housekeeper, Nancy Montgomery, in 1843. James was hanged while Grace was sentenced to life imprisonment. Grace became one of the most enigmatic and notorious women of 1840s Canada for her supposed role in the sensational double murder, and was eventually exonerated after 30 years in jail. Her conviction was controversial, and sparked much debate about whether Grace was actually involved in the murder, or merely an unwitting accessory.
Here's the trailer:
While the trailer feels cut to give a sense of a thriller, based in emotionally suppressive times, or perhaps a bit of a horror movie, the book is actually much more like The Handmaid's Tale. It's a psychological examination of the mind, and how it submits and rebels when confronted with an untenable situation. Hulu managed to convey that very well with Elisabeth Moss' voice overs in the early episodes and the finale.
Alias Grace has a slightly better opportunity to express those ideas without resorting to voice overs. In Atwood's book, she creates a fictional doctor and early psychotherapist, Simon Jordan, who interviews Grace, trying to understand if she did it, why she did it and if she's more guilty than people believe because of her being "of the fairer sex."
This being the 1840s, there's also much use of the "modern" Victorian therapies of the time, with a "Neuro-Hypnotist" named Dr. DuPont who is brought in to attempt to bring back Grace's "unconscious memory." There's also the subject of "alienism," which advocated that prisoners should be treated like they are mentally ill patients, rather than hardened criminals, in order to rehabilitate them into society.
So how is this like The Handmaid's Tale? Like in Gilead, the mid 1840s was a highly patriarchal time. One of the major issues was "The Woman Question" which was basically how society should regulate the sex lives of young unmarried women, as well as those who were older. Like in Gilead, every aspect of women's lives were controlled by men, from birth to death, not matter what class status they were. If they acted out, institutionalization was the going punishment.
Alias Grace does differ from Handmaid's Tale as the subject of race also permeates the story. Grace Marks is Irish-born, and in those older Victorian times when race theory and "The Irish Question" were taken seriously, upper class Canadians treated them as if they were an inferior species, not unlike their counterparts did down in America with Africans. One of the issues that came up at the real Grace Mark's trial is that she attempted to conceal her heritage, and was accused of "English passing," which was seen as a subversive act.
Alias Grace will run six episodes, and be released on Netflix on November 3rd, 2017.