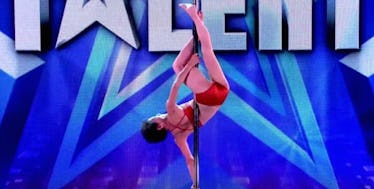 This 70-Year-Old Pole Dancer Will Blow Your Mind With Her Sick Moves
YouTube
A contestant on a recent episode of "Italia's Got Talent" is going viral for her unexpected — and seriously impressive — pole dancing routine.
Japan-born Tomoko moved to Italy 43 years ago to pursue a career in opera. Now 70 years old, she spends her time perfecting her pole dancing routine  -- an art she's unquestionably mastered.
While "pole dancing" usually brings to mind stripping, Tomoko's routine (which does not involve any nudity) is more gymnastics-based than anything else. It might sound weird, but trust: It's incredible to watch.
She might be 70 years old, but Tomoko proves beyond a doubt that age really is just a number.
Check out her routine, which has since gone viral with more than 850,000 views on YouTube, up top.
Citations: 70-year-old Japanese pole dancer clearly crushes the competition (Mashable)