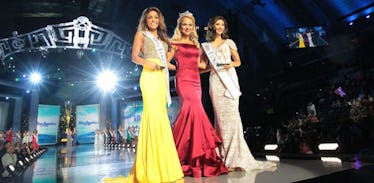 There Are 51 Miss America Contestants This Year And Here's Why
Donald Kravitz/Getty Stringer
The Miss America 2018 pageant is finally here, and there are some gorgeous contestants competing for the crown. Obviously, we have 50 states in the United States of America, so fans are wondering why there are 51 contestants in Miss America 2018. The answer is pretty simple.
Drumroll, please...
The 51st contestant in Miss America 2018 is Miss District of Columbia. Yes, D.C. is considered separate for the pageant. In the past, there have even been 52 contestants, with Puerto Rico having a separate contestant as well.
This year's Miss District of Columba is Briana Kinsey. She's 24 years old, originally from Birmingham, Alabama, and her talent in the pageant is pop singing.
Kinsey says her defining moment in life was leaving Alabama and moving to D.C. She said,
Moving to Washington, D.C. taught me how to make my own connections and adapt to an unfamiliar environment. The experience shaped the person I am today.
She graduated with a degree in biology and is planning to get her doctorate in pediatrics. Kinsey says being a pediatrician is something she's super passionate about. She told Miss America 2018 viewers,
I know that this is something I want to do and I'm passionate, but it was very scary at first.
According to Kinsey's bio on the Miss America website, she founded a non-profit called Daring to Defeat Diabetes to advocate and fundraise for the condition. She's also a spokeswoman for the American Diabetes Association and Juvenile Diabetes Research Foundation. According to the Hoover Sun, Kinsey's mother, maternal grandfather and paternal grandmother all have diabetes.
Kinsey also works with the Girl Scouts of America to advocate for diabetes. She helps the scouts learn about "girls' health from inside out." Over 200 of the Girl Scouts have earned a patch from Daring to Defeat Diabetes.
On the lighter end of the spectrum, Kinsey says her secret wish is "to be a castaway on Survivor and last more than one day." And looking at her Twitter, she's a total reality show junkie like the rest of us -- she watches The Bachelorette and Big Brother.
Miss District of Columbia made it to the Top 15, along with Miss Tennessee Caty Davis, Miss Virginia Cecili Weber, Miss Pennsylvania Katie Schreckengast, Miss Louisiana Laryssa Bonacquisti, Miss Texas Margana Wood, Miss New Mexico Taylor Rey, Miss Alabama Jessica Procter, Miss Missouri Jennifer Davis, Miss Alaska Angelina Klapperich, Miss Georgia Alyssa Beasley, Miss South Carolina Suzi Roberts, Miss New Jersey Kaitlyn Schoeffel, Miss North Dakota Cara Mund, and Miss Illinois Abby Foster.
Kinsey is up against 50 other women for the crown of Miss America 2018. The Miss America pageant has been around for almost a century -- the first pageant was back in 1921. The show was created to draw more patrons to Atlantic City, New Jersey, after the Labor Day holiday, so there would still be some business for those stores and casinos who saw a dip during this time of year. Once it got cold on the beach, tourists left the town pretty quickly. The show still takes place in Atlantic City today.
The winner of the Miss America pageant doesn't just walk away with a crown and some flowers. These women have amazing causes that they do charity work for, and the pageant gives the winner a $50,000 scholarship and a six-figure salary during the year of their reign. The runner-up gets a $25,000 scholarship, the third place winner gets a $20,000 scholarship, and the fourth place winner gets a $10,000 scholarship. The top ten contestants all get a small fortune in scholarship money (between $4,000 and $8,000) and the rest of the contestants get a $3,000 scholarship, so everyone's a winner with Miss America.