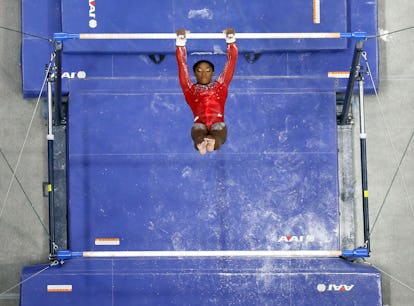 Here Are All The IG Handles For Team USA Gymnastics
Keeping track of all their posts is *my* Olympics.
Jamie Squire/Getty Images Sport/Getty Images
After a year-long delay, the Tokyo Olympics are finally going ahead. The worldwide competition, which is held every four years, is one of the sporting world's highlights, and those who compete are considered to be the elites in their field. The competition will feature multiple disciplines over the weeks-long span of the games. But for Team USA, one of the biggest sports is gymnastics, in which the country wins medals regularly. For those who want to follow this year's competitors, the 2021 U.S. Olympic Gymnastics team's Instagrams are the best place to start.
The U.S. Olympic teams are divided by gender into the men's and women's teams. Each team has 10 athletes each, with six women competitors and four alternates, plus five men's competitors, and five alternates. With all the faces fans will be seeing in competition night after night once the games open, here are all their Instagrams to get to know them better. These accounts will also help fans gain insight into what the athletes are thinking, what it's like to live in the Olympic village in these coronavirus-affected games, and what they'll be up to after the games are over.
Here's the full lineup of the U.S. Gymnasts selected to compete in the 2021 Tokyo Olympics:
The artistic gymnastics competition at the 2021 Tokyo Olympic Games begin July 24, 2021.