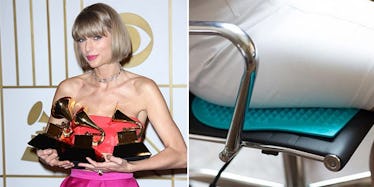 The 2017 Grammy Awards Gift Bag Includes A $99 Butt Pad To Fight Cellulite
Want free chocolate, a butt pad and some pizza but don't have the money? You should try getting nominated for a Grammy.
As is tradition at award shows/bar mitzvahs, this year's Grammys swag bag is as important a piece of the event as the actual award presentations/Torah speech itself.
Every year at every major award show, attendees make their way to the event half to see their colleagues get statues and half to take home a complimentary gift box that costs more than two years of rent.
The most expensive gift in this year's Grammy gift bag is an $8,850 trip to Golden Spa.
Yeah. They just give that shit out for free.
They aren't all cool romantic getaways, though; a lot of the gifts make absolutely zero sense for the context they're being given in.
Like this butt pad that comes in your swag bag for instance.
Or this weird hula hoop workout program.
For those who like their lampshades like they like their movie theater hot dogs (wayyyy too expensive), this Okawa craftsman lampshade comes in your bag.
Also, six novels come in this bag for some reason.
A CPR kit also comes with the swag bag, in case Beyoncé decides to drop another surprise album.
YOU ALSO GET ONE FREE LARGE PIZZA FROM D'AMORE'S FAMOUS PIZZA IN CALIFORNIA!!!!!!
Crayola Crayons somehow found their way into the Grammy gift bag.
Some device that lets you wash your roots or something (I'm a dude, give me a break) will be given out.
Need a neck pillow for airline travel but are worried you WON'T look like you're walking around in a Christmas market pop-up? Boom. Grammy bag has you covered.
These tiny golden chocolates are a waste of gold and cannot be filling at all.
Other weird things from this year's bag:
- One six-ounce can of Blue Diamond Almonds. - Two hours of free DJ service from DJ Spark. - Hasbro games, including "Toliet Trouble" and "Monopoly Token Madness." - MBG Medi LED Hydro Mist which helps keep your vocal chords mushy or something.
Soooooooooo, how do I swing myself an invite to this thing?
Citations: The 2017 Grammys Swag Bag Is The Best Thing Weve Ever Seen (Refinery 29)