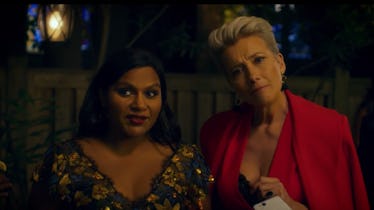 10 Movies Like 'Late Night' That Will Make You Laugh & Feel Inspired
Amazon Studios
If there's anything more intriguing than watching TV, it's watching the stories from behind the scenes of TV. The movies taking a meta approach to the world of television, film, or journalism help explain why people just can't let go of these tough industries, but they're also escapist stories that simultaneously make you laugh and teach you to be assertive in your career. Following its recent theatrical release, Late Night has fully revived this genre, and if you can't get over its vision of dynamic female duos working in late-night comedy, check out these movies like Late Night that deliver a dose of funny inspiration.
Late Night follows new staff writer Molly (Mindy Kaling) as she tries to help late-night TV host Katherine Newbury (Emma Thompson) revitalize her show and comedic style. In real life, the faces of late-night TV are still overwhelmingly male, but movies like Late Night give hope for a more diverse workplace. Whether or not you work in media, there are plenty of movies capturing the highs and lows of professional life and the ways people survive that nine-to-five grind. The picks below focus on careers in TV and journalism, friendships forged in the office, and a hilariously relatable drive to make your dreams come true.
Love this list? Create a Likewise account to save these recs to your own watchlist and follow Elite Daily for more. You'll always know exactly what to watch next.