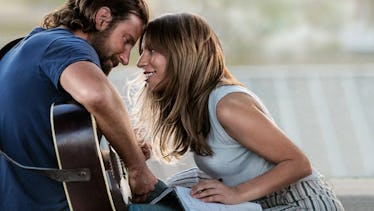 10 Movies Like 'A Star Is Born' That Will Bring Out Your Inner Romantic
Warner Bros. Pictures
When we're not trying to imitate Lady Gaga's belts in the A Star Is Born trailer, we're likely swooning over her character Ally's epic romance with the grizzled singer-songwriter Jackson (Bradley Cooper). Hollywood loves a romance taking place onstage or over a guitar, but the theme that truly carries over into all of our favorite romance movies is a couple falling for each other thanks to their mutual love of something else. These movies like A Star Is Born will inspire your inner romantic and, yes, might include a song or two, but I'll be too busy smiling into my popcorn to mind a less musical take on love.
A Star Is Born isn't as sunny and optimistic as some other romantic or musical movies, but an equal mix of cheery and realistic content makes for a satisfying movie marathon. If you're in the mood for straight-up fluff, you'll find a few options below, while other picks definitely appeal more on those days when you just need a good cry about love. While a powerful ballad or sweet musical montage is key for portraying romance onscreen, life can't always be like a song. So, once your voice has gotten a little hoarse from perfecting Gaga's vocals, check out some of these movies to help you come to terms with whatever romantic scenario you're currently facing.
Love this list? Create a Likewise account to save these recs to your own watchlist and follow Elite Daily for more. You'll always know exactly what to watch next.