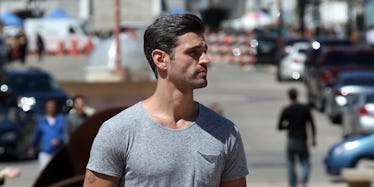 Peter Admitted To 'Bachelorette' Rachel He's Not Ready & Twitter Is Heartbroken
ABC/George Burns
Warning: This post contains spoilers Episode 9 of The Bachelorette.
Well. The reality TV gods haven't quite spoken, but the sun seems to be setting on our heart-throb Peter. Tonight, Peter told Rachel he's just not ready to propose on The Bachelorette, and Twitter can't handle it.
Just one episode (and one tell-all) left in Rachel's season, and she took Peter, Eric, and Bryan home to meet her family in Dallas, Texas. Then they all went to Spain to... IDK... FALL IN LOVE AND LIVE HAPPILY EVER AFTER?
From the beginning, Peter has been a frontrunner, seemingly walking around with the clearest head and purest intentions.
Tonight, however, things took a huge turn when he told Rachel, "I don't know where to go from here, to be honest."
That's because Rachel made it clear she wants a proposal, not a boyfriend... and Peter only wants to propose if he knows it's forever.
She said,
I was hopeful for what Peter and I could be, and then just like that, I didn't see it. ... Tonight for the first time ever, I'm thinking Peter and I might not work out.
NO, DEAR GOD, SAY IT ISN'T SO!
Everyone was hoping for someone to be sent home and bring us closer to the finale, but instead, we are still left with a final three and one lousy "To Be Continued" title card.
Peter fans were like, "Don't you dare, Rach."
Even though some people were on Rachel's side...
Even Rachel is tweeting out her feelings on the episode.
We just have to stay tuned.
Next week, fans will be treated to a "Men Tell All" episode when fan favorites (I use the term "favorites" loosely) like Waboom and the Tickle Monster make a return.
Then, in two weeks, we find out if Peter gets over his major cold feet or if Rachel uses her feet to kick him out the door.
Until then, all we can do is eat, pray, and rosé.