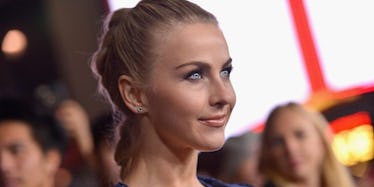 Julianne Hough And Brooks Laich Went On The Cutest Honeymoon Ever – PHOTOS
Charley Gallay/Getty Images for Paramount Pictures
As if Julianne Hough isn't admirable enough, she delivers another blow with the most adorable, perfect honeymoon photos of her and NHL star hubby, Brooks Laich. Rub it in, you two.
The cozy pair posed beachside after their July 8 wedding with the most flawless, picturesque photos on Instagram. I am jealous. You are jealous. We're all jealous, OK?!
Hough posted several photos on Instagram of her and Laich beachside looking drunk in love and hopelessly devoted to each other (that's a Grease reference) with the caption, "Brunchin with my huzzzbin #honeymoon." How does anyone look that good in sweaty beach pics and is that her natural beach hair? WTF.
Laich also posted a photo of Hough posing in front of the crystal clear beach waters with his wedding ring in the center of the frame. Artsy and romantic? Who is this guy?
Also, what kind of human has these abs? What's happening? Why?
The couple wed on July 8 in front of more than 200 guests in an outdoor ceremony in Coer d'Alene, Idaho, where Hough spent many of her childhood summers. Aww, how precious!
The Dancing with the Stars judge boasted about her love for Laich several days after her wedding on her Instagram saying, "I'm so grateful I get to spend forever with this incredibly kind, thoughtful, strong and adventurous man. I'm the luckiest woman in the world to be your wife! It was truly the most special time in our lives."
Although social media posts are usually depictions of false realities, I'm pretty sure this couple is the real deal. This kind of Instagram love is a dream for all of us. This might be an everlasting love, y'all.
The couple of the year goes to… them… just give it to them already. Congratulations, you two! We're all hoping our honeymoons look half as good – and our abs, but that's probably never going to happen.