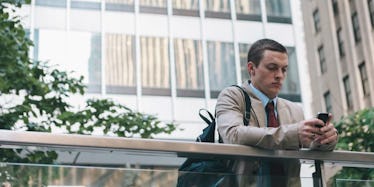 These 10 Internship Process Hacks Prove It's Just Like Online Dating
Joselito Briones
The internship process is long and arduous. As a current graduate student of Syracuse University, I know it was a painstaking process for me.
If you are reading this article, I assume you are freaking out because you don't have an internship.
Or maybe you do, but you want to learn a cool hack to use in the future or share with a friend. Well, I went through this process of endlessly applying for internships.
It feels like a dark tunnel that will never end, but remember: All you need is one company to give you an internship offer.
In order to succeed, I quickly learned I had to practice patience as well as be strategic.
In order to differentiate myself from my peers, I realized the key was to reverse-engineer and hack the internship process. This process is similar to the one described by Amy Webb's Ted Talk "How I Hacked Online Dating."
By using the exact hacks I have highlighted below, I was able to land my dream internship. Remember to have fun, be patient and be organized.
1. Apply to your favorite companies beforehand
First, I recommend you begin the internship process at least four to five months in advance.
Employers will appreciate your chutzpah, since 99.99 percent of students are not doing this.
If your goal is to land your dream internship, begin by applying to your favorite companies.
Before you email employers individually, you must apply to the companies on their general careers page, since it is often protocol for you to submit the necessary documentation and fill out their legal agreements.
What kinds of companies should you be applying to?
– Companies you use or hear about on a daily basis.
– Companies you believe in and are passionate about.
– Companies that recruit heavily from your university or specific major.
2. Download Rapportive plugin for Gmail
In order to acquire an employer's email, I recommend you use the tool Rapportive.
Once you begin to reverse-engineer the employer's email address, Rapportive will reveal whether the email is linked to the person you are looking to email.
3. Search for the company and employee title on LinkedIn
Let's take the company HP for example.
I would begin with two different searches on LinkedIn.
One search can be "recruiter," and the other search can be for the specific department you are applying to.
If you are applying for a business analyst position, then search for "business analyst."
This way, you can identify who your future boss may be. That is the person you want to email, since they can influence HR's decision if you make a good impression on them.
4. Browse LinkedIn
If you have no idea what to search for on LinkedIn, you can start by browsing the employees from the specific company you are applying to.
Once you apply the search, I recommend you use the LinkedIn filters to help narrow down your search results.
5. Identify your target
Once you have identified your possible boss or someone in the HR department, the hard work is done.
6. Find the URL of the company
Once you have identified your target, find the URL of the company. For example, if you are applying to HP, the company's URL is HP.com. This means the person's email will end with "HP.com."
For the example below, I have used a made up recruiter who works at HP named Alex Smith.
7. Confirm email address
Once you have identified the employee you wish to email, copy and paste his or her name and company URL into your Gmail where it says "To."
As I mentioned before, HP's URL is HP.com so you can use different first name and last name combinations followed by "@HP.com."
So, the first email you would try with Alex Smith would be alexsmith@hp.com. If your first combination does not work, try others.
I've highlighted a list of the most popular company email combinations below.
You will know you have successfully reverse-engineered the employee's email when their picture appears on the right hand side of your Gmail, thanks to the Rapportive plugin.
To further explain this hack, I have used my personal email address.
When I type in my email, zschleien@gmail.com, into the "To" section of Gmail, Rapportive displays my name and image, which can be seen below.
This means Zachary Schleien is indeed a real person.
8. Test possible email username combinations
Let's go back to our made-up employee Alex Smith from HP. When trying to crack and reverse-engineer Alex's email, I recommend trying the combinations below:
alexsmith@hp.com
smith@hp.com (I believe the most common)
asmith@hp.com
as@hp.com
smith@hp.com
alex@hp.com
Alex Smith's twitter handle @hp.com
You get the point. If you try all of these combinations and none of them hit, move on to another person or company.
9. Once you reverse-engineer their email, prep your email.
Once you nail it, do the cha-cha-cha, give a fist pump and pray the individual will get back to you.
Tip: Make sure not to overdo it. I recommend limiting your emails to one person per company every three to five days.
It is obnoxious to email the whole department. If that person does not respond to your email after a few days, try someone else from the company.
Below is a sample email:
Dear [insert employee's first or last name]
I'm an avid user of [insert company name]. I applied for the [insert position name] position. I came across you on LinkedIn, and I am very interested in your expertise.
I'm a grad student in the [insert major or program] at [insert college or university]. My passion lies in [insert interest]. During college [insert your achievements and describe what you did].
This summer, my goals are to contribute to a [insert type of company] as well as to be in a strong learning environment. Given my experience, I know I can be a valuable asset to your company. I know you are busy, but if you have sometime to chat over the phone or grab coffee, I would really appreciate it. I can be contacted at [insert email address] and reached at [insert phone number]. My resume is attached.
Best,
[insert your name]
Tip: If you are not an avid user of their service, say something that caught your eye about their company. This can either be a news item, achievement or something about the company you appreciate.
10. Record your progress
It is extremely important to stay organized during the internship process. I recommend you make a list of your emails.
List the company name, the employee's name, title, email and the date you emailed them.
You can email someone else from their company if they don't respond within three to five days.
If you do end up emailing someone else from the company, they probably use the same email format, so there is very little guesswork.
Once the potential employer emails you to set up a phone or in-person interview, the hard work is not over. If my readers love this post, I will highlight the next hack on how to come prepared to your interview.