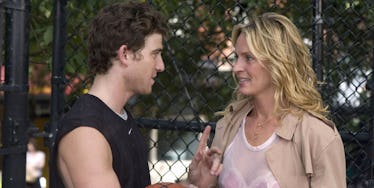 How Dating A Younger Man Has Successfully Kept Me From Growing Up
Universal Pictures
I've found the Fountain of Youth.
At 28 years old, I've managed to find a way to stay young(er) forever.
I can't say it was easy, but it was worth it.
It required many failed attempts, and a lot of time spent and equally wasted. The trip hasn't always been fun, but at long last, I have been successful.
As it turns out, the key to staying young(er) is dating young(er).
My Fountain of Youth is my boyfriend, who was born three years after me.
Three years may not seem like much, but in your 20s (when years are likened to dog years), three is just enough.
He's mature, but he also has that fun, spontaneous, almost reckless side I've lost along the way.
Now, I'm not sure how many of you are aware of the horrors that come with being 28.
It's that ugly time when, if you're like me, you occasionally buckle under the enormous stress and pressures of feeling like you should have it all together.
But like many other 28-year-olds, I don't. I don't even have it kind-of together.
I'm a 1,000-piece puzzle, and so far, I've only figured out some of the edge pieces: the easy ones that are all the same color and obvious matches.
Twenty-eight is also the age when checking social media leads to an excess of pictures and statuses about weddings, babies, buying houses, real jobs with promotions and engagements.
There have been three engagements and two new house posts just this week! But here I am, on my couch, after a long day at a job I hate, eating ice cream and dreaming about what I want to be when I grow up.
In a moment of weakness, I might say to myself, "They've got it all."
They have all those things that come with real adult life, but I don't want any of them.
I'm not ready to have it all together just yet.
I don't want babies; I want road trips to Coachella.
I don't want engagement rings; I want a plethora tattoos I might regret someday.
I don't want to be entirely responsible with my money; I want to be able to binge-shop at Ulta.
I don't want a to plan a wedding just yet; I want Kylie Jenner hair (and lips) and GoPro videos of epic parties, bon fires and cliff jumping.
I want drunk nights and dance parties, road trips and memories I'll never forget.
I may be considered a grown-up, but I am not ready to grow up.
So, I found myself a 25-year-old bearded babe who is years away from wanting to be married or become a father.
He is 25, so I am 25. Or, we can bridge the gap and call it even at 26.5.
With him, I bought myself a few years of youth.
I am in no rush to "grow up," and now I have no reason to. We take it at our own pace, even if that pace isn't what society dictates is normal for a 28-year-old.
My heart ticks in beat with that of my 25-year-old.
He isn't interested in creating a family life, but he is still a lot of fun. He doesn't want to come home after work and fall asleep to a good book and a cup of tea.
He is coming off of his college high, and wants to cram massive amounts of entertainment (and whiskey) into every day, every week and every weekend.
He keeps me going and doesn't let me wither away into a diaper bag toting, playground frequenting, post-baby bodied "adult."
He keeps me young.
He is why I say I've found the Fountain of Youth.
I've found the pause button on my adult life, and I'm going to hang out here for a while.
Call me the Hermey of the adult world, and send me to the Island of Misfit Adults because I walk to the beat of my own drum.
I'm creating my own timeline.
Luckily, I've found someone to rock an air guitar by my side.
Above all else, the point of life is to live, so why not buy yourself a couple years?