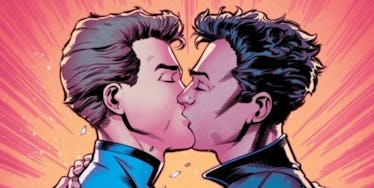 First Gay Lead In 'X-Men' Finally Kisses Male Character, Makes Marvel History
Marvel/Bagley, Hennessy & Woodard
He may be the coldest mutant known to man, but Iceman's latest move is heating up the pages of a new "X-Men" issue.
It was just two short years ago that Bobby Drake (the real identity of Iceman) came out as gay in the fictional comic book universe (courtesy of a "younger, time displaced version" of himself).
And now, the acclaimed superhero has finally found himself an equally attractive love interest.
In the star-crossed storyline (reminiscent of Shakespeare's "Romeo & Juliet"), the young Iceman has found himself locking lips with Romeo, a member of the Inhumans — a regular antagonistic group to the X-Men.
As Marvel has planned for the X-Men and Inhumans to go to war in the coming months, Iceman's slow rise to feeling comfortable with his sexuality will surely be shattered once he's forced to go head-to-head with his newfound bae.
The older, original Iceman will continue to struggle with coming out and become the focus of a new storyline in April.
This marks the very first time Marvel will have a gay man lead in a comic book series, and it's a progressive moment for the LGBTQ+ community, even if it is confined to the pages of a fictional superhero comic.
For those wondering what to make of the on-screen romance already existing between Iceman (Shawn Ashmore) and Rogue (Anna Paquin) in the "X-Men" movie trilogy, Ashmore has previously expressed interest in reprising the role if it took a turn in the LGBT direction.
"I think it'd probably be the most interesting thing that could happen to Bobby in the films," he told IGN.
Ashmore continued,
If they decided to take the story that way, it'd be incredibly dramatic, it'd be an interesting storyline, and it would give Bobby a great character arc. I'd definitely be open to that, but again, I'm not sure if they want to take the character in that direction. I have no idea how they would play that out. I think it'd be very interesting.
Ashmore hasn't reprised his role since "X-Men: Days of Future Past," where  — SPOILER ALERT  — he got his head crushed in a dystopian wasteland. So fingers crossed they bring him back for a second run.
I mean, for someone meant to be as cold as ice, he's pretty hot AF.
Citations: Iceman finally has his first gay kiss in X-Men – see the glorious full page illustration (Gay Times UK), X-MEN'S SHAWN ASHMORE INTERESTED IN PLAYING ICEMAN AS GAY (IGN)