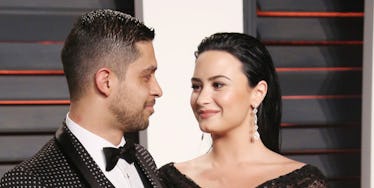 Wilmer And Demi's Breakup Proves Being Friends First Doesn't Always Work Out
REX/Shutterstock
Last Friday, news broke that Demi Lovato and Wilmer Valderrama went their separate ways after six years of dating. This came as a shock to many (including me) because in the midst of all the recent celebrity breakups, I was really rooting for them.
Wilmer even called Demi his "fucking soulmate" just a few months back, and going from "fucking soulmate" to sad and lifeless doesn't exactly strike a chord with me.
The pair released a joint statement on social media, saying,
This was an incredibly difficult decision for both of us, but we have realized more than anything that we are better as best friends…
Wilmer and Demi had a pretty solid relationship. Wilmer stayed by Demi's side while she self-harmed, battled with an eating disorder and checked into rehab. He was a good person and a loyal boyfriend; you don't do that kind of stuff for someone you don't love.
So, there was real love there; that much has been established. But what really went wrong between the two? Why break up with someone you have great sex with and whom you can call your best friend?
It's pretty rare to have both your emotional and physical needs fulfilled by one person. (Trust me, I've only ever had guy friends or fuck buddies.) Of course, conflicting schedules and time apart from each other took its toll on them (a common thread amongst high-profile celeb breakups). But, I've always been guided by the notion that if you're with the right person, things will just work out, regardless of any extenuating circumstances.
You will go to ends of the earth for someone you believe to be really special because despite all the other special things going on in your life, what you two have is too unique.
A source told E! News that the primary reason the relationship didn't work was because it turned into more of a "big brother-little sister" dynamic, and that "the romance wasn't what it used to be." Hmm. If you ask me, a slow fizzle in romance makes sense. It should be expected.
Yes, it's less than ideal when the spark dies and the honeymoon phase is over, but that's hardly an excuse to call it quits. If you dipped out of every relationship after the spark died, you'd never make it with anyone. 
Often when I'm complaining to my friends about being single, they tell me the same thing: "Sheena, you keep choosing fuckboys." The key to maintaining a healthy relationship, according to some of my friends, is to be best friends with your boyfriend first and lovers second.
I was never really sure what they meant by that until I tried to make a relationship out of a just-sex situation with someone I had nothing in common with. I realized the relationship would never work because, well, just great sex wasn't enough glue to hold us together.
At that moment in time, it became clear to me I need to be BFFs with my man. I need to be able to shoot the shit with him like I would with any other one of my girlfriends. Like, we'd have to be able to have fun sitting on a rooftop together until 2 in the morning, just talking about the universe. I'd have to have that connection with him while still wanting to ride him like a horse.
It seemed like Demi and Wilmer had just that. They had the thing I've been looking for for 25 years.
So back to my original question: What exactly does "better as best friends" mean? If it's true that building upon a foundation of friendship has the potential to make a relationship more stable in the long term, is there such a thing as a relationship being too friendship-y and not romantic enough?
And what does "romantic enough" even mean? If it means jumping into a guy's arms in the pouring rain and then having sex with him against a wooden door a la "The Notebook," I think Wilmer and Demi might be waiting for something that'll never come. Their breakup gets me thinking about whether or not there really is a difference between loving someone and being in love with someone.
From where I'm sitting, it sounds like the high wore off and they fell out of love. But, I'm confused because I'm still left wondering if you can be — or should be — in love with your best friend.
* Name has been changed.