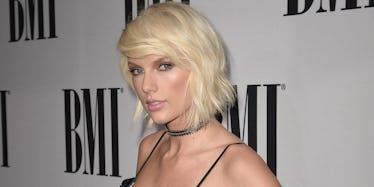 Why Taylor Swift And Calvin Harris' Breakup Makes Me Afraid To Fall In Love
Jim Smeal/BEI/Shutterstock
When Taylor Swift and Calvin Harris first started dating, I was torn.
My inner hopeless romantic was over-the-moon happy for Taylor because, as a fellow once-heartbroken chick, I'd been rooting for her ever since she got her heart broken for the first time. But my inner cynic was upset -- and, hell, maybe even a little jealous -- that she found love and left me in the dust, still single as ever. I seriously felt as though I'd lost an ally.
I also remember being a little concerned about whether or not Calvin was truly "the one." At 25, Taylor was at the pinnacle of her career, and I didn't want her to stop putting out hit records or feeling inspired to write music. Basically, I didn't want the empire she's worked so hard for to fall apart at the hands of a man.
But they were in love, and love always tends to get the best of us. Taylor even announced her intention to take time off after her 1989 world tour.
Now, after 15 months of dating, the couple has officially broken up. Sources say the split wasn't dramatic at all, just due to their tour schedules. Apparently, "they just couldn't make time for one another," which led to an unfortunate slow-fade.
Now that they're no longer together, I'm more afraid than ever to fall in love.
Taylor dished about Calvin in interviews, describing the relationship as "magical" while expressing her desire to keep it "low-key." He met her family multiple times, the two of them went on vacations together and they were just so happy that there's no doubt in my mind Taylor thought he was the real deal. She flaunted the relationship on social media and couldn't contain her happiness. No end was anticipated.
Taylor and I are similar in many ways. We both romanticize love. We've endured heartbreak after heartbreak. We channel our love woes by writing about them and, in turn, connecting with other people. I idolize her. But I've also been afraid to fall in love for quite some time now. I just don't understand the appeal of giving your heart to someone when you haven't got a clue what he's going to do with it.
It isn't so much the whole "we were so happy and suddenly we're not" thing that turns me off from a relationship. It's the reason for Tayvin's falling out.
If they really did end things because they were giving it all to their careers, then what does that say about my ability to "have it all"? Taylor and Calvin are practically already at the top, so what happens to those of us who are still trying to succeed? If Taylor's romantic history is any indication of what life looks like for a powerful career woman, I'm doubting hard that I can have both a career and love.
I want a perfect love and a perfect writing career, but maybe something can only be perfect if you devote all your time and heart to that one thing and nothing else. This split makes me feel like it's impossible to maintain love while creating your legacy.
Like Taylor, I want to be a mega-superstar. I refuse to be satisfied with anything less. Does dreaming big have to mean sacrificing time that could have been invested in my love life? Does it have to mean putting off meeting, being with and cultivating a healthy relationship with the love of my life? I don't want to be alone forever. 
Maybe it really is lonely at the top.