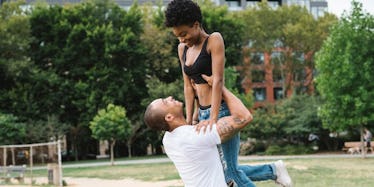 Why You'll Regret Only Dating A Certain 'Type' Of Guy In Your 20s
Your 20s is a time to explore, to feed your soul, and to satisfy your curiosity about all things in life, including the guys you'll date.
Although many of us are all too guilty of judging a book by its cover, it's the biggest mistake a gal can make during the dating stage.
It's normal to gravitate towards your "type," since we're all naturally drawn to our comfort zones.
But when it comes to dating, it's time to think outside of the box. It's so important to give a guy a chance, and to not be too quick to judge him.
You know what they say: Good things come in small packages. Don't necessarily think the big one is always way better.
You can certainly get the worst prize of all, packaged in a big, beautiful box adorned with all of the shiny embellishments.
Don't let the handsome dude in his fly Indochino suit deceive you.
Take Perry and Celeste Wright on Big Little Lies, for example. To outsiders, and even their closest friends, Perry looked like the type of husband and caring father every girl hopes to have someday for herself and her children.
And yet, we find out he's everything but that. He's physically and emotionally abusive, with some serious problems and demons lurking behind closed doors.
A person's looks and status can change, but what you have on the inside is what's truly the real deal, and it never fades.
You'll miss out on so many other incredible guys and experiences out there.
You may think you'd like something or someone a specific way, but it's critical to consider all of the great things you could be losing out on.
If you're worried about a guy's interests and passions differing from your own, simply accept him for who he is.
You wouldn't want to change him, but maybe there are things he'd like to learn and share with you. If he doesn't know how to ski, and it's one of your passions he admires, teach him how.
You might judge a guy by what car he's driving, and perhaps you'd solely date the dude who has a set of expensive, hot new wheels. But, how do you know the guy who rolled up to the bar on a motorcycle doesn't have a Porsche that's in the shop for repairs?
And to that point, how would you feel if someone crossed you off the list because you got a bad haircut, or you weren't rocking Jimmy Choo pumps? These material attractions are so superficial in the grand scheme of things.
You're setting yourself up for failure in the love department by not broadening your horizons.
Maybe you don't think you want to date an outgoing guy, because you're not outgoing yourself. But sometimes, opposites are the best match. The outgoing guy may open your eyes to new things you've never seen or experienced before.
For example, say you're annoyed because you're looking for a guy with a white-collar job. Literally anyone could win the lottery tomorrow, or have the job opportunity of a lifetime, and you're selling yourself short because you're depending too much on specifics.
Guess what? The guy with the white-collar career could lose his job tomorrow! It's time to broaden your horizon.
Check out different genres, so to speak. People see you differently than how you see yourself, too.
You should never typecast a person, because you could be missing out on something pretty spectacular.