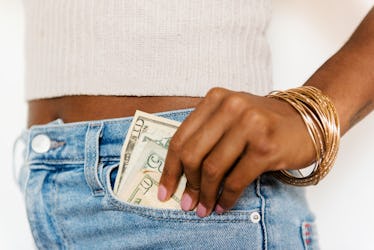 Here's How Experts Define Financial Infidelity, & How To Know If You Or Bae Are Guilty
When it comes to romantic relationships, everyone knows what cheating is. Maybe you have a different definition for it than others, but you know what it is in the simplest of forms. But there's an entirely different form of cheating that has nothing to do with lusting over someone other than your partner. It's called financial infidelity, and it's more common than you might expect. So, what is financial infidelity? And how can you tell if you or your partner are guilty of it?
According to Susan Ball, self-love activist and women's freedom coach, financial infidelity is defined as "keeping a financial secret that could have negative consequences on your shared long or short-term goals." In short, it's betraying your partner's trust when it comes to money. "For example, as a couple, you have agreed that in the short-term you want to save to go to Florida for the winter and one person is doing the work to save each month but the other person is not contributing as agreed," Ball explains.
"Instead, they are taking some of the savings to go shopping, out to dinner, buy take-out, etc. In the end, when the couple looks at their Florida savings account it comes up short because both were not being honest — they were cheating. The partner who has been cheating will tell lies to cover their tracks and this can lead to cracks in trust. It is exactly the same as cheating with another person. Trust is eroded and the one who is faithful to the plan feels cheated and that becomes a long-term trust issue."
It all comes down to honesty, but there are several other aspects to financial infidelity that deserve our attention.