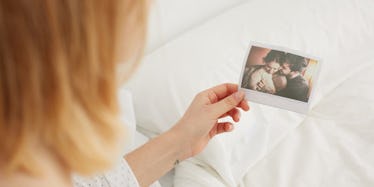 5 Ways To Celebrate V-Day If You're In A Long-Distance Relationship
Valentine's Day is a day of celebrating romance, love, affection and partnership.
However, being in a long-distance relationship can put these Valentine's Day "givens" at their own unreachable distance.
While truly rewarding at the end, long-distance relationships require perseverance, effort and a lot of emotional strength.
Celebrating love while being apart can be challenging, especially when being surrounded by loved-up friends who have somewhat normal V-Day plans.
However, Valentine's Day is an occasion for the celebration of happiness, and long-distance relationships are no exception.
Here are five ideas to experience a wonderful Valentine's Day, regardless of whether your sweetheart is 10 or 10,000 miles away:
1. Organize a Skype dinner date.
While your loved-up friends may be looking forward to a sit-down meal with their sweethearts, there's no excuse for you not to do the same.
Even if you can't physically clink drinks, you can still sip that wine!
Put on that swanky red number and cook up your favorite meal. (Takeout is also fine.)
Skype is a wonderful free way to experience this one-to-one date. Make sure to plan ahead and set a time.
With the wine flowing and the conversation sparking, your romantic Skype date will feel just like the distance has dissolved.
You can't go wrong with ending the night with a shared movie date with the candles glowing, which will make it a long-distance Valentine's Day to remember.
2. Send a gift.
Gifts can be a great way to express your affection for your loved one on Valentine's Day.
When sending gifts overseas, a wise idea would be to cut down on the price and amp up the sentiment, in case of undelivered items and possible import expenses.
A personalized item of clothing or even concert tickets could be the icing on top of your SO's cake.
Food never goes amiss.
How about some luxurious chocolates or even a specially designed cake?
Fresh flowers scream sentiment.
Staying clichéd doesn't have to be negative, so why not order some red roses for your other half?
3. Write a letter.
Buying a gift is one thing, but physically writing a letter to your lover is truly something special.
From 10 to 100 words, just the idea of opening a letter is more exciting than anything money could buy.
Spraying the letter with your favorite sent is sure to add that special touch.
Why not also include a picture of you both? That way, you can bring an extra bit of warmth to your SO's heart.
4. Make plans for future.
While Valentine's Day is an opportunity to appreciate the present, being in a long-distance relationship requires a little more.
Sitting down and organizing a future meeting date may be the perfect remedy for an aching heart on V-Day.
Whether it's organizing a break from the city or planning for a longer time with each other, having a date set in stone to meet up can be all that's needed to cure your LDR blues on Valentine's Day.
5. Invest in some apps.
In the age of apps, it would be unwise not to take advantage of the wide range of phone applications available for long-distance couples.
Apps like Intimate, Couple, Avocado and Between all give couples in LDRs the chance to send virtual messages, pictures and even hugs and kisses.
Sometimes, even something so small as a message from your far-away partner can close the distance in a matter of seconds.
Remember, distance is not for the fearful; it is for the bold.
The truth is, if you survive the distance, your relationship can survive anything.
Celebrating love has no rules, distance or limits.