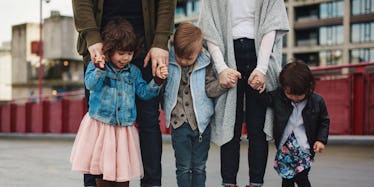 6 Reasons Valentine's Day Only Gets Better After You Have Kids
As cliched as Valentine's Day has become, I'll admit I still get swept into the whole ordeal. Stores are stocked up with boxes of sweet confections, cheaply made stuffed animals, heart-shaped cookies and balloons.
The radio is contaminated by commercials from jewelers. OK, no: The ads are completely annoying.
But the flowers. Let's not forget the impressive displays of flowers that welcome you at pretty much any grocery store.
As corny as it all is, I love it. A day specifically designed to celebrate love? Yes, please.
After I've had children, this day has become just a little extra special. Any excuse to rejoice in the fact that I have three beautiful men in my life is a good excuse.
Here are the top six reasons I love Valentine's Day more now that I've had kids:
1. I get to buy my husband and kids cheesy things.
On any other day, a corny stuffed animal or socks with colorful hearts would be met with an eyebrow raise. But on this day, it is perfectly acceptable (and expected) to receive a singing cow or red and white pajamas.
I completely enjoy buying these things and gifting them to all three of my men.
2. We get to make Valentine's Day cards.
My son is assigned a secret valentine in his class, and he has to create a handmade card. Even when stores are plagued by items that can easily be bought, it's such a beautiful gesture to make something meaningful.
Who doesn't love gluing stuff to paper?
3. I receive flowers accompanied by the biggest smiles.
The flowers never last longer than a week and a half, and it's a shame they were yanked from some beautiful bush somewhere. But boy, do they look gorgeous on my kitchen table.
Seeing my husband and kids with their grinning faces, ready to surprise me, is the perfect cherry on top.
4. We celebrate with new traditions.
When my older one celebrated his very first Valentine's Day, I gave him a book about love. It turned out to be one of his favorites, and so, a new tradition was born.
Each year, I gift him a new book about love. I'm excited to share this tradition with my littlest man when he celebrates his first V-Day. It's such a nice way of reminding my kids how much I really love them, and reading together is priceless.
5. We are just a little extra giddy.
The smiling faces, the people snuggling, the love songs playing at restaurants and shopping malls: It's all contagious.
People all around us are just a little happier. It rubs off.
Or maybe it's us doing the infecting. Either way, there's just a little extra bounce in our steps on this day.
I'm sure the excessive sugar consumption has something to do with it. But regardless, it's a good day.
6. I have even more love in my life.
My husband is my rock, and celebrating him on Valentine's Day is a complete no-brainer. Now that I've become a parent, I not only have my husband's love. I also have these two little munchkins to hug and kiss me.
I am humbled and thankful for this every single day. Thanks to these three, my heart won't have to explode. I have them to expend all of my love on.
If that's not cause for celebrating, I don't know what is.
This Valentine's Day, love will be in the air, and I plan on breathing that stuff up with all three of my guys. This includes the tacky things, the flowers, the extra hugs and the kisses.
Bring it on, V-Day. I'm ready.