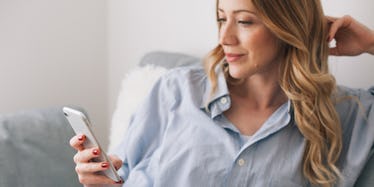 14 Tinder Conversations That'll Take You On A Wild Roller Coaster Of Emotions
Ah, Tinder.
What a simultaneously magical and incredibly weird place.
On one hand, you have access to all these potential hookups, girlfriends, boyfriends and maybe even soul mates right at your fingertips at any given moment. So magical.
But on the other hand, you have access to all these potential creeps and stalkers and total freaking weirdos at any given moment (but technically, you can have that at any point on any day). So disgusting.
Needless to say, no matter which category your match ends up falling into, it does make room for some pretty epic conversations.
Some people were even kind enough to share their most epic Tinder conversations on Twitter, and I have done you the immense favor of including the best ones here for you.
Read along and rejoice.
This girl was just upfront and honest.
This dude just needed to learn how to do less.
These people should maybe get off Tinder and start careers as poets.
This guy really wanted to get to the bottom of why he kept getting rejected.
This guy made one bad line and couldn't bounce back.
This guy created a fake disease to justify asking her to sit on his face.
This guy also moonlights as the fashion police.
How could he not make a Scooby Doo joke when her name was Daphne?
I think this is the best argument for condom usage I've seen to date.
This guy has maybe the best analogy ever.
These two are honestly a match made in nerd heaven.
This guy was a little too cool with her having a baby.
This person's "dragon" everybody down with this line.
And this guy just got mega shut down.
But, like, seriously... how interesting were those?
If you have your own epic Tinder conversation you'd like to share, feel free to comment a screenshot below!