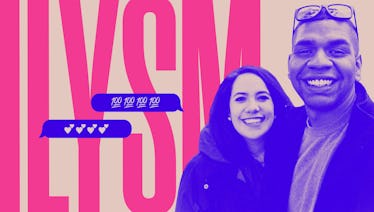 This Couple Met On Upward & Credit Their Faith For Keeping Their Love Strong
Elite Daily
Are you dying to know what a couple's relationship is really like? Elite Daily's series ILYSM celebrates couples who met on dating apps and dives into the inner workings of their relationships. How did they know they were falling for each other? Who sent the first awkward message? What's the one thing they fight about? Are they astrologically compatible, and do they care? By the end of each story, you'll love them both so much.
Dulce "Candie" Fernandez and Elias Escamilla were both open to finding long-distance love when they matched on Upward, a dating app for Christian singles seeking faith-centered relationships, in the summer of 2020. Candie lived in Texas and had her app's radius set to 300 miles; in Colorado, Elias' radius was unlimited. They bonded through messages and phone calls for a month before Candie visited Colorado for their first official date.
Since then, the couple has traveled back and forth between the two states every few weeks. They made their relationship official after praying and talking the decision over with the people closest to them, and they realized they were falling in love while dancing to a country song at a friend's wedding. After a picturesque Colorado mountain proposal in the fall of 2020, they'll tie the knot in Texas in July 2021. Once they're Mr. and Mrs., Candie (and her Yorkie, Dutchess — a very important part of their family) will move to Colorado.
Here's their story:
Dulce "Candie" Fernandez
Graphic designer, Enneagram 9, Yorkie lover, homebody.
Elias Escamilla
Clinic administrator, small-town kind of guy with a huge passion for traveling and storytelling.