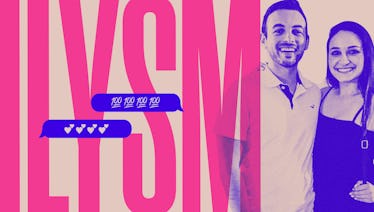 This Couple Met On Ship, Where Friends Can Set You Up, & Fell In Love
Elite Daily
Are you dying to know what a couple's relationship is really like? Elite Daily's series, ILYSM, celebrates couples who met on dating apps and dives into the inner workings of their relationships. How did they know they were falling for each other? Who sent the first awkward message? What's the one thing they fight about? Are they astrologically compatible, and do they care? By the end of each story, you'll love them both so much.
In 2019, Idamarie, a project administrator for a contractor in Illinois, felt very single, and she wanted to change that. She listened to the dating advice podcast U Up and had profiles on a bunch of different dating apps, but she just wasn't meeting anyone special. Then, one day, she heard an ad on U Up for the dating app Ship, which lets people swipe for their friends and debate potential matches in a group chat. Her best friend Claire promised she'd help Idamarie find someone amazing on Ship. "It was nice knowing that my friends took my dating life seriously," Idamarie tells Elite Daily.
Soon enough, Idamarie met Gianni, a foreign trade zone coordinator in Illinois who shared her Italian heritage — and they've been happily together ever since.
Here's their story: