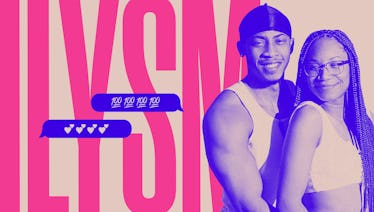 This Couple Met On BLK & Shares A Deep, Spiritual Connection
Are you dying to know what a couple's relationship is really like? Elite Daily's series, ILYSM, celebrates couples who met on dating apps and dives into the inner workings of their relationships. How did they know they were falling for each other? Who sent the first awkward message? What's the one thing they fight about? Are they astrologically compatible, and do they care? By the end of each story, you'll love them both so much.
Moneá Eskridge and X'zavieyan Green knew they were falling in love on their very first date while listening to '90s R&B after a hike. Their connection was so natural, X'zavieyan said he felt like they had known each other "forever." The two met in July 2020 after matching on BLK, a dating app for Black singles, and they've been inseparable ever since. When they're not physically together, they FaceTime around the clock.
Moneá, a nursing student and patient transporter at a hospital, loves the spiritual connection she has with X'zavieyan, and feels like they're always communicating "in equilibrium." X'zavieyan, a personal trainer and aspiring model, has learned the value of communication from Moneá, and says it's one of the keys that makes their relationship work so well. "It doesn't matter what it is," he said. "We don't hold secrets."
Here's their story.