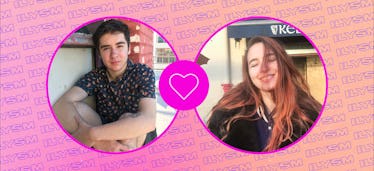 This Couple Matched On Tinder & Moved To A New State Together
Kelsey Cadenas
Are you dying to know what a couple's relationship is really like? Elite Daily's series, ILYSM, celebrates couples who met on dating apps and dives into the inner workings of their relationships. How did they know they were falling for each other? Who sent the first awkward message? What's the one thing they fight about? Are they astrologically compatible, and do they care? By the end of each story, you'll love them both so much.
Hunter Grace Simpson, 20, and Levi Leidy, 19, are a perfect match — literally. This couple matched on Tinder just under two years ago, back when they were both living in Seattle with their parents. After a whirlwind date that involved a trip to Denny's, a roller-skating accident, and some "funky-tasting" green tea ice cream, they began to fall hard and fast for each other. The two began texting and calling day and night, even seeing each other in their dreams.
When Hunter was accepted into the Fashion Institute of Design and Merchandising in California, Levi decided to come along for the ride. Today, they live together in a cramped, but sunny studio apartment in Los Angeles, where Hunter attends school and Levi works as a content specialist. Together, they're encouraging each other to push boundaries, try new experiences, and better trust themselves.
Here's their story: