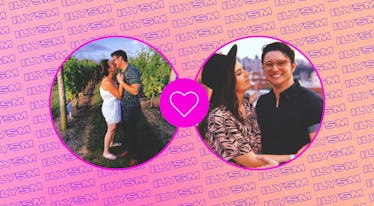 This Couple Matched On Tinder & Knew It Was Love On The First Date
Kelsey Cadenas/Elite Daily
Are you dying to know what a couple's relationship is really like? Elite Daily's series ILYSM celebrates couples who met on dating apps and dives into the inner workings of their relationships. How did they know they were falling for each other? Who sent the first awkward message? What's the one thing they fight about? Are they astrologically compatible, and do they care? By the end of each story, you'll love them both so much.
When Georgi Carbone-Wynne, 25, and Nikolas Toner, 26, met on Tinder just over two years ago, the sparks flew instantly. Their first date felt so effortless that Nik began to fall for Georgi immediately and they sealed the evening with a goodnight kiss.
Now the two live together in New York City, with their cat, Phoenix, and their rabbit, Thumper. In fact, the first time they told each other "I love you" was at the veterinarian clinic, caring for a sick Thumper. Don't worry, the rabbit got better and all went back to normal, but for Georgi and Nik, nothing was ever the same. Since that fateful night, they attended weddings together, visited each other's hometowns, and are actively discussing the future.
Here's their story: