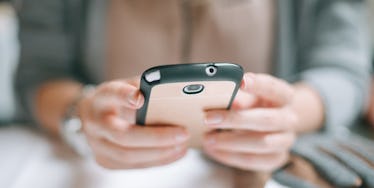 How Text Messaging Across The World Saved My Military Marriage
My husband and I text more than we've ever spoken. To date, we've spent more time apart than together.
When I think about talking to him, the first thing I do is reach for my phone. It's not to call him, but to send him a text.
Our relationship has been a little unconventional. We were together a year before he decided to join the military. Originally, we wrote letters when he was in basic training, then it progressed to text messages.
His first assignment was two years in Japan. While I stayed in the states and got my degree, texting was our lifeline. Talking on the phone was out of the question, due to the time difference and the fact that I had classes all day. Plus, after working a 12-hour shift, who has the energy to be on the phone?
Texting made it possible for me to keep in touch with him, whether I was in class or out with friends. Texting also allowed me to "see" him. This was before the days of Snapchat, and Skype was still new.
Good morning texts were accompanied by a sleepy eyed photo. Phone calls couldn't do that.
After his tour in Japan, he was back in the states, but our work schedules kept us apart. He worked nights, and I worked days. We were two ships passing in the night, with only text messages to guide us.
Sometimes, we got creative and left Post-Its, but we had very little verbal communication, even though we lived in the same house. Then came the infamous call.
You're going to Korea.
He would be there for a year. We discussed buying prepaid phones, but international plans were outrageous. Thanks to the time difference, he was an entire day ahead of me, so talking to him was almost impossible.
There'd be times I would go a week without hearing from him. Facebook messenger turned out to be our only feasible option. We'd constantly sent a barrage of texts back and forth, from "How did you sleep?" to "What are you doing this weekend?"
I became obsessed, checking my phone every few minutes, hoping I'd see that little circle with his picture on it. Eventually, we set designated Skype dates. But like a trip to the dentist, they were few and far between.
Time was a luxury my husband could rarely afford. That is the beauty of texting: All you need is an Internet connection.
It doesn't matter where you are or who you're with. At that time, my phone was as necessary as my morning cup of coffee. At any moment, a vibration would alert me to an incoming message. My virtual carrier pigeon was sending love notes from across the ocean.
People put too much emphasis on phone calls. Spotty service causes you to only hear every other word, and background noise drowns out the person on the other end.
While many people think the art of conversation is dead, texting has resurrected it. In today's society, people don't always have time to spend on the phone. If they do, it's usually inappropriate to be on the phone. (No one wants to hear your conversation in the grocery store or at the gym.)
Texting is one of the most intimate ways to communicate with someone. You actually have to think about what you are going to say, and once the conversation is over, the text still remains.
It's not a snap or phone call that disappears after a few minutes. It is a digital love letter, and without them, my marriage may not have survived.