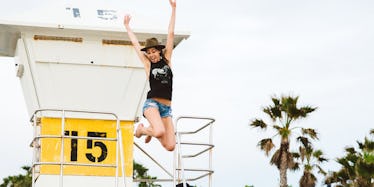 Surviving The Sugar Rush: What They Don't Tell You About Sugar Dating
Stocksy
In a world where the average salary does not even come close to the actual cost of living, we should not be surprised about the increase in popularity of sugar dating. It's become mainstream. Whether it's being openly talked about or not, if she has a designer bag, she didn't pay for it with her tips from the Cactus Club. I don't think sugar dating is wrong.
I don't have a problem with the morality of it. The French have had mistresses since the dawn of time and it helped to reignite the fire and passion in their marriages.
With all the mudslinging about morality, there are some massive roadblocks Sugar Babies face that are not being talked about. Sugar Babies need to be armed for the fallout because when it happens, the fall is hard to cope with and the struggle to regain your self worth is tough.
You will miss out on age-appropriate fun.
It is not cute to dance on a bar after a certain age or throw water balloons at an ex-boyfriend's house. It always seems like a great opportunity to spend days lazing on a yacht in the South of France, but you will miss that weekend's antics with your friends. You will be left out of the inside jokes and it will leave you feeling like there's a huge distance between you and them.
There will be. They won't relate to the beautiful bathrooms in the hotel in Paris because when they went, they stayed in a hostel. It was fun for them because they met a bunch of young people from around the world. Both are wonderful ways to travel. You will just be experiencing different things at different times.
Having an older man that pays for your life means you have to be on call for him 24/7. Your livelihood quite literally depends on nurturing that relationship, and so it has be your priority, your boyfriend has also become your job.
Learn to treat your sugar relationship like a career and your social life like a social life. Get rid of the job all together for this period of your life.
At this point, it just isn't worth missing out on the growth you experience when you've missed the last bus and you are caught, half drunk in the rain with your friends. A sugar relationship gives you someone with extensive knowledge and a wallet big enough to solve your problems. In the moment of crisis, it's nice. In the long run, it will hinder your ability to feel strong when left to your own devices.
Make an effort to take the bus and do less luxurious things. The grit of youth contributes to your growth and it will be the only time in your life that it is looked upon as normal to drink wine from a box. Don't miss that opportunity.
You will be behind everyone else in building your career.
Would you go to work on a sunny day, or chose to enjoy the day at the beach and go shopping for a new pair of shoes?  Even when you have a sugar relationship to pay for school, the travel, shopping and amazing food will become a distraction.
If you think that at the end of said schooling, you will magically want to give up the gifts, paid rent and vacations for an $18 per hour position at a firm where they give you one week - I repeat, ONE WEEK - vacation time upon approval, you are naïve and likely should not be sugar dating in the first place.
Be realistic in the fact that a real job can never really work for you after sugar dating. You have been spoiled beyond the point of return. Read the "Four-hour Workweek" and start writing a business plan for your own business. Be prepared to sell all your purses to begin this business.
While you are sugar dating, it's a good opportunity to do volunteer work or take classes in a new skill. Let's call this part of your resume "Self Employed" or your "Personal Assistant" phase. Put half of your money away in an account designated for investing. You may think this is extreme, but it is not.
Build income-producing assets before you break it off or worse yet, he does. Buy stocks, buy into a business or buy a rental property as soon as you possibly can. That awesome pair of shoes will lose its shape about the same time your backside does. A rental property will give you the funding needed to lift your backside and the balance in your bank account.
The hardest thing you will face is graduating from Sugar Baby to girlfriend.
No matter how hard he works, a younger boyfriend will not have the experience, finances, or guilt in his system to spoil you like a Sugar Daddy does. The purse he bought you from Guess for your birthday will pale in comparison to the Chanel purse your Sugar Daddy bought for you because you spilled coffee on yourself and had a rough day.
A Sugar Daddy will not argue your opinions because he sees it as part of mentoring you. You are like the puppy chewing on his favorite shoes: cute, carefree and loving. He only needs to train you a little longer. Your biggest worries are easy for him to handle. He's been there before. His future is not wrapped up in you. You are not actively participating in building his life. You are his distraction from life.
A boyfriend will get caught in arguments because he is so invested in you he will find it easy to get caught up in his emotions. He sees you as a direct part of his life. Do not forget what real love feels like.
Real love isn't the exhilaration you feel the fist time you realize that they serve free booze and fresh baked cookies on first flights or the feeling you get when you buy your first pair of Louboutins. Love is the feeling of melting in someone's arms and dreaming about building a future, not simply a bank account.
Know that a designer purse does not mean much if he doesn't have to work hard to buy it. You may like the purse, but never confuse the cost of a gift with the value of a gift that came straight from the heart. Most importantly, never forget that the struggles you experience in real relationships make the sweeter moments that much sweeter.
Photo Credit: WENN