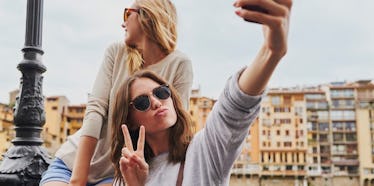 These Are The Types Of Pictures That Ruin Your Chances On Dating Apps, Science Says
One of the biggest anxieties that comes with crafting a perfect dating profile is how to represent yourself.
As vain as it probably sounds, appearance is everything. While we want to make sure we're always displaying our best self when curating a profile, it's more about the way your photos are presented that can make or break the likes you're getting.
I'm talking things like awkward angles, hazy filters and intense scenery that can impact your potential matches.
Relationship app Hinge just released data from an in-depth study that pinpoints exactly what "type" of profile picture will ultimately get you the most likes (and hopefully, the most dates).
Data scientists created an algorithm targeting 35 specific photo tags (like whether your hair is up or down, or if you're showing teeth or not) throughout a random selection of profile pictures.
The final numbers pulled were able to tell what the best approach should be when aiming to be authentic.
"Since Hinge profiles are designed to show off our Members' personalities, we want to help them put their best foot forward with their photos," says Hinge spokesperson Jean-Marie McGrath. "Now we can tell them which photos they should share and which they should probably keep to themselves"
If you couldn't already guess, things like wearing sunglasses (especially indoors, you weirdo), adding a Snapchat filter and posing with someone who could be confused for a partner are all bad ideas when it comes to photo selection.
People want to see the "real" you, not someone with their face obscured... or with fake puppy ears.
Nor do they want to pick you out of a line-up. You should be representing yourself to the best of your ability. Showing a smile, enjoying a night out and participating in sports are all ways of doing that, according to Hinge's report.
Photo tips for women
For all you ladies out there, get that hair out of your face and you'll be 27 percent more likely to get a like.
You'll also be 76 percent more likely to get liked if you show off those pearly whites, and 69 percent more inclined to be liked if you are standing alone.
Apparently, side profiles are a great tactic as well, since you're 74 percent more likely to get that like if you're looking away.
Photo tips for men
For guys, it's a different story.
Forget looking away, because we want to stare deep into your soul. You'll be 102 percent more likely to be liked if you're staring straight ahead.
You'll also end up swimming in matches if you give us a coy grin without teeth, and if you're hanging out by yourself in the picture.
What photos will get you a lot of likes
Hinge also pulled information that highlighted what clearly works for profile pictures and what is probably keeping you single.
An avid basketball fan? Love a good game of tennis? How 'bout water polo?
Honestly, probably doesn't matter. Sports photos just work, with women 166 percent more likely to catch a guy's attention with a sports-centric photo, and men 45 percent more likely to catch a woman's attention with a sports-centric photo.
Photos in the moment work wonders, with candids being 15 percent more likely to help you get a like on Hinge.
That also goes for the minimally used black and white photo.
The artsy nature of a picture like is actually 106 percent more likely to have you receiving like... after like... after like, if used on your profile.
What photos will get you barely any likes
Stay off the sand! It turns out beach photos do nothing for your image, with both men and women less inclined to get likes if they're frolicking by the ocean.
The same could be said for the amount of selfies you post. That solo photo is 40 percent less likely to get a like in comparison to, let's say, a regular picture taken like a normal person.
And make sure you stay far, far away from your toilet. Bathroom selfies are 90 percent less likely to receive any likes (for obvious reasons).
So, if you're in the midst of a dating drought, just follow the guidelines above. Setting yourself with the best profile pictures possible will catch someone's eye without having you coming off fake and superficial.
Hinge is "4x more effective at getting dates onto dates" so clearly, they know what they're talking about.