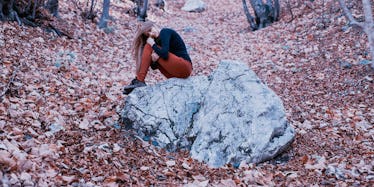 The Story Of Us: What It's Like To Date Your High School Sweetheart Again
Stocksy
The summer before my junior year of high school, I met him. He wasn't the typical (bad) boy type I was used to dating at the time, but I fell for his midwestern charm and his ocean-deep blue eyes.
We spent hours driving around back roads and learning everything about one another. The love we developed was the kind that makes your heart sing with joy, and makes you never want to let go. We were each other's first loves — first everything for that matter.
The fall after I graduated high school, we went off to college together, where everything began to fall apart. Neither of us knew who we were. We had spent more than two years being "together," which led us forget how to be on our own.
Instead of embracing college life, we fought all the time and tried to force everything to work out when it simply wasn't working.
Long story short, we broke up after our first semester of college. I was devastated. I felt as though my life couldn't move on without him. We were so codependent on each other that I didn't think I would survive.
Anywhere I went, I was reminded of him. It didn't matter how many drunken nights I spent with my sorority sisters; I just couldn't let go.
That winter break, I begged my parents to let me move to California because I knew I couldn't go back. Yes, I was running away from him. The thought of seeing him around campus and not being able to hold his hand, look into his eyes or kiss him before we parted ways for class was unbearable.
Leaving was the best decision I ever made.
We briefly stayed in touch after I left. I spent several months crying my eyes out on my bathroom floor, and it was the worst heartache I ever felt. No one understood my pain of losing my first love, so I forced myself to move on.
I have had two serious boyfriends after him and have gone on plenty dates, but none have filled me with the butterflies my first love gave me.
After being single for a few months, I realized I was still struggling with my personal identity. I started to volunteer and travel with my church. I sponsored an Ethiopian child and started my own blog.
I realized that all along, I was missing a major piece in my own life, which prevented me from having a "real relationship" with my first love. I didn't love myself first.
Flash forward to today. After two and a half years of not seeing each other, we reunited. I went back to Minnesota for Christmas break and I knew it was time to reconnect with him.
We never stopped loving one another, and in my heart, it felt right to see him. I wanted to see how I would feel. Maybe we both changed and grew apart for a reason, maybe what we had was left in high school. Maybe not.
Hugging him for the first time in what seemed like a decade filled my whole body with millions of familiar butterflies, the butterflies I have only ever felt from him. It seemed as though nothing had changed, yet something was different. We both have grown up a lot and learned how to survive without each other.
We spent hours driving around our old date spots and reminiscing on memories from high school. The love I still had for him rushed back like an overflowing river after a storm. I felt guilty because no one in my life approved of him due to the mistakes we had both made so long ago, but something about him has always felt right.
Maybe it took me moving away to realize that no matter how far I go in life, my heart will always belong to him. After all, the heart wants what it wants.
When you find the "one" for you, you will know. I have always known he was perfect for me, I just needed to love myself before I could truly love him.