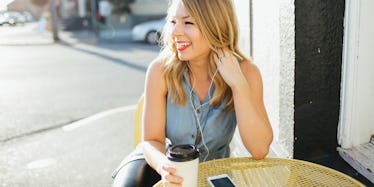 Society Turned Me Into A Player, But You Say It Like It's A Bad Thing
"Are you a player?" he asked me as we walked down the street.
"No, I just crush a lot," I smiled.
I went home alone that night and I called my friend. "I only date players," I said.
"You're the biggest player I know," she told me with no hesitation.
No. No, no, no, no. I can't be a player.
The word "player" has such a negative connotation. It means he's leading you on -- he's acting like he's more interested in you than he really is.
A player is also someone who's dating you and multiple other people at the same time. But because the relationship isn't "real," or defined, you can't consider it cheating.
A player is cheating the system; they're playing the game.
When I first started using Tinder, I loved how guys were always ready for a Tuesday night date.
You could swipe right in one second and your date would be waiting for you at a local bar just a couple hours later.
It was easy and simple, and it made the whole question of compatibility easy to distinguish. You actually met the person right away.
Going on a Tinder/Bumble/DM date was like eating a taco on taco Tuesday. It was convenient, it was fun and it was socially acceptable.
But after a while, you take a break from tacos and you come back and sit and wait and eventually think about getting more tacos. But no one asks you to go get tacos when you want them to.
When you start to date people, they could be seeing someone else. You know it and I know it, this isn't your first taco.
There's no rule book for when it's inappropriate or hurtful to go on dates with someone else throughout the dating process.
But in the times we live in, where love is a numbers game, quantity has become must more important than quality. Therefore, people aren't all that interested in solidifying relationships.
So, if and when you do find someone you connect with, you latch onto them.
This is why dating shows like "Bachelor in Paradise" and "Coupled" now seem more real.
In "Coupled," a group of girls meet one guy and decide if they're interested in him. If they are, they go to the bar. The man meets them after he's had individual conversations with them all.
At the bar, he chooses two women and has 24 hours with them before he chooses which one he wants to stay at the Couples Villa with and which he wants to send back.
In a two-on-one date he has to decide who he likes after only 10 minutes of conversation. For some, the experience works, for others, they find out they're not compatible.
Now, as someone who's had connections with everyone from her Uber driver to her next door neighbor, choosing one guy in a short amount of time seems radical.
So, I get back to my point.
The lie I tell myself: I can't be a player because I've never been in an exclusive relationship. It's OK to go on one date a week, seven dates a week or no dates a week as a single woman.
But do you know what this does? This makes me a player.
I find I'm distancing myself from guys and I especially wouldn't dare get close to one, even if I actually liked him.
My friends tell me until there's a set commitment, I don't have a man and I can do whatever I please.
Doing whatever I want and not taking someone else's feelings into consideration isn't going to ever get me a relationship though, it's only going to perpetuate this player mentality.
Last week, my friend turned to me and asked, "Besides book club, is there anything else you do besides date?"
I took a sip of my mocha and realized I've officially been pigeon-holed as the city girl all of my friends warned me about. You know, that "Sex in the City," Carrie Bradshaw kind of chick.
But you know what? For now, I'm happy and content to be living my life this way.