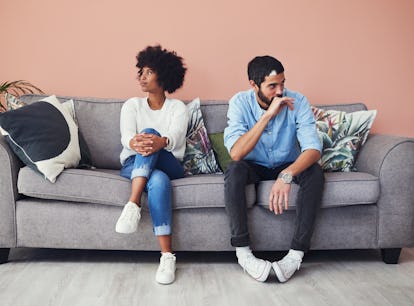 Here Are 6 Dating Behaviors That Mean Someone Def Isn't Over Their Ex
It's a red flag if they're constantly bringing their ex up in conversation.
PeopleImages/E+/Getty Images
Imagine this all-too-real scenario for a minute: You've been dating someone for a few weeks and everything's going well. You really like them and think this could lead to a great relationship. The downside? They bring up their ex's name way too often, or you catch them creeping on their social media. It's uncomfortable, and you aren't sure what to do about it. There are usually signs someone is not over their ex quite yet, and knowing these red flags might be able to tell you whether or not you're dating someone whose heart belongs to someone else.
But does it really matter if your partner isn't over their ex before they start dating you? Sex and intimacy coach Irene Fehr tells Elite Daily that it does. "From the wondering, dreaming, thinking about 'what ifs' or 'what should have beens' with an ex, still being connected with them takes emotional energy — and that is energy that cannot go to a current partner," she says.
She also points out the importance of emotional availability, saying, "If you want to be involved fully with this person, it's important that they are available to be emotionally involved and in love with you. Still being involved or hung up with an ex creates a dynamic where there is a 'third,' which can be defined as anyone or anything that intrudes on the couple, or makes it difficult to connect deeply and get to know each other." If you notice any of the following signs in your boo's behavior, then you could be dating someone not over their ex, and it might be time to reevaluate the relationship.
If you've come to the conclusion that person you're dating isn't over the ex, Leckie recommends taking a step back, and "let them know that you aren't interested in dating someone who hasn't moved on from their past relationship. Wish them well and look to meet others who are in the right headspace and looking for the same things you are."
You don't necessarily have to break things off with someone if they aren't over their ex, but it's important to at least talk about it. "Remind them that when they do [bring up their ex], they are only extracting the moments of the relationship they want to remember that where about companionship," Silva advises. "This is also not allowing them to form a relationship with anyone new."
It's not easy to get over an ex, but if someone hasn't moved on from their previous relationship and wants to start something new with you, it might be a good idea to talk things out first. After all, you deserve to be with someone who is as invested in you as you are in them, and that can't happen if they're still thinking about their ex all the time.
Experts:
Irene Fehr, sex and intimacy coach
Clarissa Silva, behavioral scientist and clinician
Dr. Joshua Klapow, clinical psychologist
Susan Winter, author and love coach
Trina Leckie, host of the breakup BOOST podcast
Editor's Note: This story has been updated by Elite Daily Staff.
This article was originally published on