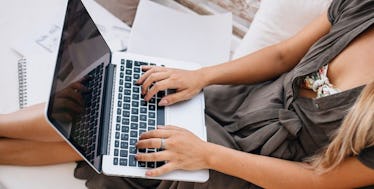 Lots Of Women Think Watching Porn Is Cheating, According To Massive Survey
Marko Milovanović
Hearing the word "porn" immediately transports me to a place of peace and relaxation.
Any time I'm ever scouring the internet for videos of naked people I've never met, it's because I'm bored, horny and probably in need of some quality downtime with me, myself and I.
I would never correlate my porn viewing habits with anything other than precious moments of self-reflection and, well, masturbating.
According to a new survey from YouPorn, however, a large portion of ladies out there who are avid porn watchers (one in four YouPorn viewers is a woman, apparently) are a little more insecure when it comes to their porn-watching habits.
Say whaaaaa?
Apparently, a good chunk of women believe watching porn is the equivalent of being unfaithful.
Of the over 24,000 women surveyed in a month, 32 percent of women in relationships agreed that watching any type of porn without their significant other around was cheating. That's about 3 in 10 women.
Women are even hesitant to admit that they find pleasure in good 'ol fashioned pornography.
The YouPorn survey also found 54 percent of women have never discussed their porn-watching habits with anyone before.
And if their browser history ever got out, the world would basically end, as 51 percent of women said they'd be extremely embarrassed if any of their friends discovered that they watched porn.
I'm not sure what the women surveyed are basing their judgments off of, but it seems like they might only be hurting their own gender here.
Guys watch porn all the time.
I watch porn. My two roommates watch porn. I've openly discussed the outrageousness of certain porn with other male friends. And never have any of these guys been in the presence of their girlfriend or any other woman while jerking off.
Women deserve to feel more liberated when watching porn, observing and learning what they like instead of being in fear of breaking some sense of trust with their significant others.
Plus, porn is far from shameful to watch, as you could learn new sexual skills you may not pick up elsewhere.
According to the survey, the top reason women seem to watch porn is because they "enjoy it."
Women also watch porn as a way to "satisfy fantasies without acting on them" (16 percent) and because they "feel excited at that moment" (14 percent).
Women should be able to get off to porn if they want to and in whatever way they want to, without panicking that they might be "cheating." They should be able to live vicariously through these videos if they want to experience some sort of fantasy act.
And let me tell you something: I can't speak for the entirety of the male species, but if watching porn is "cheating," then a lot of guys are cheating.
And I'm no cheater.
Citations: What Women Really Want When it Comes to Porn; a YouPorn Survey (YouPorn)