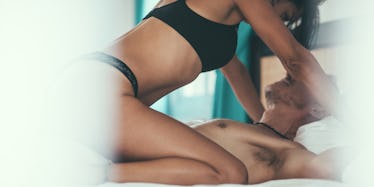 10 Women Reveal If They've Ever Faked An Orgasm, And Their Reasons Are So Relatable
by Anjali Sareen Nowakowski
Did you know there's a day to celebrate the best thing in the universe? No, it's not love, you saps. I'm not talking about Valentine's Day.
No, I'm talking about orgasms. Orgasms are the best thing in the universe. And luckily for all of us, today happens to be National Orgasm Day.
Today is obviously a day for lots of sex. Unfortunately, for some women, having lots of sex can sometimes mean faking lots of orgasms. I have never had to fake orgasms, and for this, I am eternally grateful to the sex gods. I know, though, that plenty of women have had to fake it at one time or another because, well, sometimes you just can't get off.
In a super relatable Reddit thread, women were asked if they had ever faked an orgasm, and if so, why they did it.
Their reasons are sure to make you laugh, cry, empathize... and then, maybe go find a partner you can really celebrate National Orgasm Day with — without faking it.
She was young and just wanted to be nice.
When she started making shopping lists in her head, she knew she had to.
This woman just wanted it all over with.
She realized faked orgasms worked just fine for phone sex.
This woman's ex would get way too upset if she didn't.
She thinks most dudes take it a bit hard if an orgasm doesn't happen.
Sometimes, you physically just can't at the moment.
With age, comes wisdom.
She was worried he'd get frustrated, but it turns out, he's an awesome partner.
This woman was just figuring out who she was.
So it turns out, there are lots of reasons women fake orgasms, and some of them may feel super relatable. But don't settle for faking it on this National Orgasm Day. Go out, ask for what you want in bed, and get your orgasm, girl.
Check out the "Best of Elite Daily" stream in the Bustle App for more stories just like this!