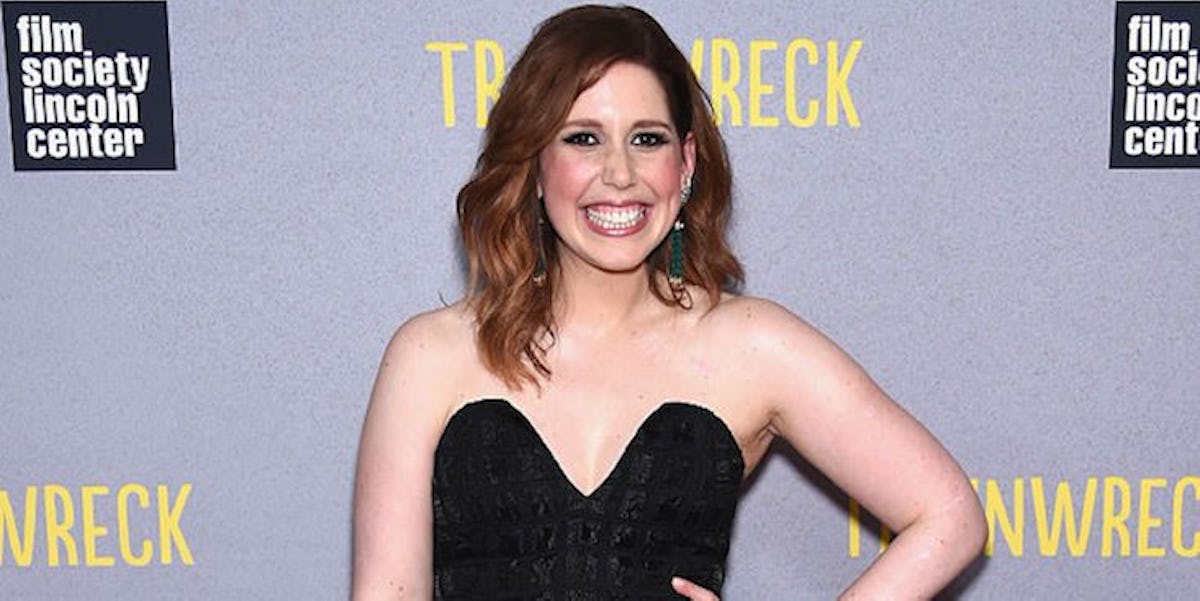 'SNL' Vanessa Bayer Says Don't Ask Your Friends For Advice About Sexual Health — EXCLUSIVE
Getty Images
In addition to being our favorite Saturday Night Live star and playing Amy Schumer's work BFF in Trainwreck, actress Vanessa Bayer also spends her time promoting a pretty sweet cause: Allegran's Know Your Birth Control Campaign. She was nice enough to talk to me about all things birth control that she learned with the campaign. But before Vanessa Bayer shares birth control advice with us, let me give you some more background on the campaign.
According to the Know Your Birth Control site, the goal was really to have Vanessa Bayer and Dr. Jessica Shepherd, OB/GYN, team up to dispel any popular misconceptions about birth control:
There's a lot of conversation out there about birth control—and a lot of misinformation, too. So much so, that it has us wondering: just how much do (or don't!) women really know about birth control? We sent comedian Vanessa Bayer to hit the streets of New York City to find out. Then, to set the record straight, we invited Dr. Jessica Shepherd, practicing and well-published OB/GYN, to tell us the truth about the Pill in a 3-part video series.
So, basically, Bayer hit the streets to find out what women did and didn't know about their birth control, and let's just say, most of us still have A LOT to learn. You can see a snippet of it in the video below, and you can watch the whole video series here.
After she was done hitting the NYC streets, Bayer tells Elite Daily everything from why knowing the facts about birth control is so important to what advice she has for girls thinking about going on some form of birth control.
Getting educated about the many forms of birth control is so, so important.
In terms of why she got involved with the campaign, Bayer tells Elite Daily, "I think it's really important for women to be educated about birth control and to feel comfortable talking to their health care providers about it and to be able to figure out what's the best method of birth control for them and to get that conversation started."
Even as a sexually active adult, Bayer realized she had a lot to learn when it comes to contraception. "Even doing this campaign, I realize there's so much that I don't know," she tells me. "And that's a lot of the reason why I wanted to do this."
This is what women are missing when it comes to their sexual health.
Needless to say, when she was out there on the streets quizzing random people about their knowledge of contraception, Bayer got a pretty good sense of what women are missing when it comes to their birth control.
"There are so many misconceptions out there," she says. Again, even Bayer herself was surprised to learn so many new things about the pill. "There's over 35 different kinds of birth control pills that have different formulations," she continues. "Who would have though that there was that many?"
Regarding the specific misconceptions and myths surrounding birth control that a lot of us probably buy into, Bayer explains that it really varies from woman to woman, including herself. "Being on the streets of New York, I thought that some women would know the same things and not know the same things, but it's really a wide range of answers we're getting."
So of course, we come to the same conclusion here: IT'S IMPORTANT TO EDUCATE YOURSELVES, PEOPLE. No matter how much you think you know or how many answers you think you have, there is always more to learn, especially when it comes to your sexual and reproductive health.
Bayer's advice to girls thinking about getting on some form of birth control is something we should all take note of — seriously.
When it comes to sex ed, Vanessa admits she was fairly lucky in that she received a pretty thorough education from her public school. Having said that, she still admits she bought into lots of bogus advice from friends who didn't really know what they were talking about.
"No matter what age you are, don't talk to your friends," she warns. "I'm in my 30s, and I have a lot of friends that give misinformation." With a laugh she adds, "I probably shouldn't be friends with them anymore.
So if you can't trust your friends for birth control advice, whom should you go to? Well, Bayer advises the obvious, but necessary answer: "Talk to your doctors, they have the best answers." And if you don't have a doctor on hand to talk to, Bayer suggests you check out Know Your Birth Control's site.
OK, so now, you have no more excuses! Either talk to your doctor to figure out the best birth control option for you, or go check out Know Your Birth Control now. Better yet, do both!
Check out the "Best of Elite Daily" stream in the Bustle App for more stories just like this!