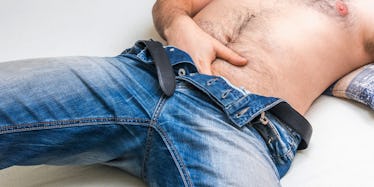 People Are Living For This Photo Of A Guy Who Died "Masturbating" During Volcano Eruption
andriano.cz/Shutterstock
If for one second, you honestly thought masturbation wasn't a thing way back in ancient times, THINK AGAIN.
This totally-real photo of a man who was definitely masturbating, and definitely not just caught in an awkward position following a volcano eruption in Pompeii, proves that everyone back in the day liked to get a little freaky with themselves.
People who were alive in the year 79 CE — they're just like us!
On July 1, 2017, Twitter user @PersianRose1 posted a tweet including this photo of a man who reportedly died following a volcanic eruption in Pompeii, captioning the photo, "Masturbating man, Pompeii, 79 CE."
WELL, AT LEAST THIS GUY PROBABLY FELT GREAT WHILE HE DIED, AMIRIGHT?
OK, so I hate to burst everyone's bubble, but unfortunately, I have to, because life isn't fair. Apparently, this guy wasn't actually masturbating when he died. Twitter user @hoaxeye tweeted a link to the original color photo, posted by @pompeii_parco_archeologico on Instagram.
According to @hoaxeye, the photo shows a "plaster cast of a victim by professor Massimo Osanna." And volcanologist Pier Paolo Petrone explained that this guy's position does NOT, in fact, mean he was masturbating mid-death-by-volcano-eruption.
"The individual in the photo is an adult man, killed by the hot pyroclastic surge (hot gas and ash cloud which killed most of the population living around Mount Vesuvius), with both arms and legs flexed due to the heat," Petrone told the Daily Dot.
OK, OK, OK, if the experts say the guy wasn't masturbating, then I guess maybe he wasn't masturbating.
But that obviously didn't stop Twitter from being Twitter and making endless jokes about how... sticky... of a situation this guy must've been in.
This guy was definitely holding on to something...
This guy knew what to do.
Need help sorting out your priorities? Take a cue from the Pompeii Masturbator.
THIS is the real question, but I guess we'll never know the answer.
LET HARAMBE REST IN PEACE, FOR GOD'S SAKE.
Where is the lie?
RUDE.
Ejaculation > Life.
When your kink is getting off in near death situations and pushing it so close to death that you actually die.
Even if this alleged "Pompeii Masturbator" wasn't ACTUALLY masturbating, there are two lessons we can all learn from this: 1) We all have different priorities, and 2) No one is safe from Twitter's wrath.