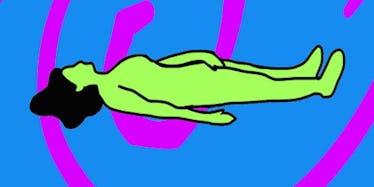 5 Easy Masturbation Positions That Make Getting Yourself Off More Fun
Let's talk about the importance of female masturbation. Yes, the down-and-dirty solo dance.
Masturbating is incredibly important to sexual health. Some studies prove masturbation can help reduce stress and depression, as well as lower your risk of contracting cystitis (AKA bladder inflammation), diabetes and even cancer. Betcha didn't know that, huh?
Yet self-love sessions often get a bad rap. Women feel anxious about solo sex. And it doesn't help that we don't really talk about getting ourselves off as often as men do. How many times have you heard a guy tell you he hit up the men's restroom for a mid-day quickie? Way more than you've heard women confess to the same thing, I bet.
But masturbation is so important for a happier, healthier life. So, I'm doing my part to fight the stigma by giving you a bunch of fun positions for pleasuring yourself to make the experience both unique and orgasmic.
Behold, five masturbation positions that only require you, some sort of surface (depending on the position) and your insatiable sex drive (sex toys optional!).
1. The Standing Pillar
It's self-explanatory, really: While standing upright against a wall, close your eyes, reach down and go in for the kill.
This position is best for a mid-day quickie. You know, like, for those days when your boss is being a total a-hole, and meetings upon meetings make you want to blow off some major steam.
Oh, and since you're standing, it's easy to stop quickly if you do happen to be in the work bathroom and that same boss decides to claim the stall next to you.
2. The Squat-And-Rock
No, this is not a gym move. Although, your thighs will be burning.
Get in a squat position (the same way you'd hover over a pee-splattered toilet seat), and rock your hips from side to side as you touch yourself with your hand or a vibrator.
The rocking, back-and-forth motion will make you feel like you're in cowgirl. It also encourages your body to move as freely as ever, which is why I'm a ~super fan.~
3. The Superman
AKA, "The Faceplant." This position is my personal favorite because I think it's the best angle for clitoral stimulation.
Lie face down on your bed or another flat surface (I suggest doing it on your bed, unless you want to taste the floor). Then, reach down and touch yourself.
You'll find that because you're reaching down while flipped over, your legs and behind will be elevated more than your upper body, which is what makes this angle so ideal.
And when you're done, you can pass out easily.
4. The Titty-Twist-And-Armchair Straddle
This variation feels the most similar to being with a partner. So if that's what you're going for, try it out!
Straddle the armchair of a couch, sofa, or rocking chair (go for the rocking chair! go for the rocking chair!) and stimulate your clit using either your hand or a toy.
You can use a dildo in place of the armchair, but there's definitely something to the whole armchair thing: It gives you more of a surface area to move on and play around with.
And there's also something about being able to create friction between your thighs and the furniture that makes this position feel as stimulating as it is liberating.
If you don't want to mess up your couch, simply keep your panties on. Don't worry, the orgasm will be just as intense.
Oh, and don't forget to twist your tits while creating all that friction!
5. The Corpse Pose
Finally, you could just lie down face-up on your bed.
It's just like corpse pose in yoga, only, in this position, you're also going to be fantasizing about someone hot AF (may I suggest Liam Hemsworth?) while diddling yourself.
Sure, it's a little vanilla, but it gets the job done. And, it's ideal on those days when nothing has gone your way, and all you want to do is go home, collapse into bed and get 'er done.
Corpse Pose is short, sweet and completely reliable.
Unlike, ahem, a man.