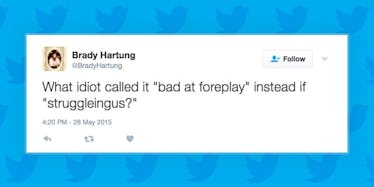 20 Real AF Tweets About How Men Are Totally Clueless When It Comes To Foreplay
Twitter
What is foreplay, you ask? Oh, you sweet, sweet soul.
Foreplay is arguably the most important part of great sex. Don't believe me? Well, surely, you must believe the internet!
If you just Google the word foreplay, the definition that immediately pops up says, "Sexual activity that precedes intercourse." What that means is, foreplay is about getting those engines started, sister!
Men, it is crucial for women's bodies to be ready for sex if you want it to be good. And that means giving your girl some extra TLC before you do the deed.
Because unlike our dude counterparts, it takes more than just the thought of having sex at some point in our lives to actually get women going.
Thankfully, Twitter gets how important foreplay is, too, and these 20 people posted some pretty hilarious thoughts on how bad foreplay is just a huge no-go:
This lady spells it out, so take notes, guys.
Hmm... can't argue with this logic.
Trust us, guys. Nothing gets past a woman.
I'm serious. Nothing gets past us. We know what's actually going on.
THIS LADY CAN'T STRESS THE IMPORTANCE OF FOREPLAY ENOUGH.
As a rule, bringing up pastries does not work.
Ladies, don't assume foreplay will be any better with a new guy. It won't.
If it's taking you forever to get your lady turned on, you're doing something wrong.
Yeah, I'll wait. We women are used to waiting to be turned on.
DON'T try to cut corners! Foreplay is a thing for a reason!
And for the love of God, commit to it.
If you still aren't getting it, maybe this metaphor will help.
This might sound uptight, but it's not women. It's you.
DO. NOT. @. US.
Foreplay isn't something you can just half-ass.
Really, it should just be a no-brainer at this point.
Whatever you do, don't rush it...
...or you'll end up in a situation like this.
Plus, a guy who is bad at foreplay is the worst kind of guy to be.
Luckily, though, some guys understand the power of foreplay.
Guys, if you don't know where to start, if this sounds like you or if you thought foreplay was "just a myth," ASK YOUR WOMAN WHAT SHE WANTS AND KEEP AT IT.
Ladies of the world, be patient, be kind and teach, teach, teach. If we stick together, we can bring the happiness of foreplay to the whole world.