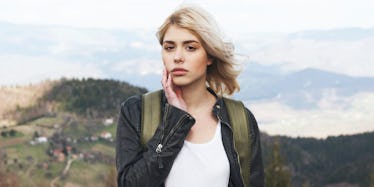 The Agony Of Realizing That 'The One' Is Now Somebody You Used To Know
To be very happy is to have experienced much sadness. In fact, it isn't possible to experience true happiness unless you have a true understanding of what it means to be miserable. Knowing happiness is to only know one side of the coin; knowing sadness means gaining a new appreciation for the whole thing, entirely.
Knowing how deep of a hole it's possible to fall into only elevates you higher when you find yourself on a mountain peak. And there is no better way to understand the highs and lows of life than to know what it means to be in love.
To understand love is to understand what it can do to you, how it can make you feel and how it permanently changes a person. Love consumes your life and inevitably is the deciding factor in living either a great or miserable life.
It isn't possible to love without feeling the pain that must accompany it. When you think about love and what it means to love a person, you likely only consider all the good feelings, ignoring all the bad. We like to imagine love as the pinnacle of happiness -- but that isn't what love is.
Love isn't just the good feelings we experience, but also the awful ones. It's the entire experience; it's both the amazing and horrible thing that makes being in love the most exciting and alive you'll ever feel.
You neither can nor should try to avoid the sadness of love. There is always some loss associated with loving a person. You don't want to own them, but to fuse with them, become a part of each other – and because you can never fully become one, you'll always feel that there is a part of them that you won't truly know.
There is always a chance of losing them, if not now then somewhere down the line. In fact, you are guaranteed to lose them sooner or later as death has a nasty habit of cutting the ropes that bind two lovers together.
If death alone is the only force that can separate the two of you then consider yourselves blessed. Sadly, life itself and the decisions we make along the way are often more than enough to mangle the love between two individuals.
The truth is that relationships sometimes die – and the love that once was goes along with them. Time changes people. People change people. The love that you once had too often fades or burns up in a blaze and the person that once meant the world to you is suddenly a stranger.
More likely than not, that person no longer even exists. You may find yourself still part of a relationship in which your partner has become a stranger.
You may have spent the last few years together only to now have to accept that the person you wake up next to every morning isn't the person you remember once waking up next to. They changed. You changed. The lovers that once were no longer exist.
Finding out that the person you loved is no longer the person you love is an incredibly frightening realization. The two of you, though living in such close quarters, have managed to lose each other.
Now a decision needs to be made: Do you continue walking forward with this person by your side or do you make a change? Do you find a way to resuscitate that love or do you cut your losses and move on with your life?
I feel that most people find themselves in a position in which the person they once loved no longer exists. Even if we don't find ourselves part of a relationship in which we lose our lover, we all look back and realize that one or several of the people we once loved – that were once a huge part of our lives and shaped the people we are now – we no longer know.
Too many people, even those we at one point deemed to be very important to us, become strangers.
The thought alone is depressing. Love has to die for it to have any value – just as we, ourselves, have to die in order to have importance. You will one day look back with tears in your eyes at the shadows of the people who made you, you.
The memories will fill your heart and then leave you with an emptiness once reality kicks back in. You will feel sad. You will feel pain, but smile: what you are experiencing once again is love.
These people may no longer be parts of your life. They may no longer even exist, but the love still does – even if in a slightly different form. Feel the pain that those memories bring and then turn the coin over.
Photo Courtesy: Tumblr
For More Of His Thoughts And Ramblings, Follow Paul Hudson On Twitter And Facebook.