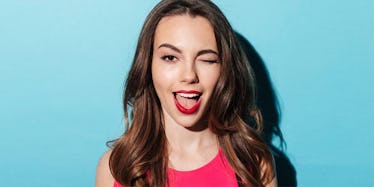 10 Sexy Little Things You Can Buy On Amazon For Less Than $1
Drobot Dean / Fotolia
I still get a little rush when I discover $1 in a pair of old pants or a jacket that I haven't worn in months. Sure, it doesn't seem like much, but you might just be surprised at how many sexy little things on Amazon only cost $1.
From an ultra-revealing body stocking that leaves absolutely nada to the imagination, to a stylish choker that adds a little oomph to your outfit, Amazon is a treasure trove of ultra-affordable treats — you just need to do a little digging. And while some things are more silly than they are practical (see: squishy penis stress balls), the great thing about shopping for value items is that you can experiment with explosive new sex toys and styles before investing serious cash in a pricier option.
There's no finer feeling in the world than saving money, except maybe blowing through it with reckless abandon. But when you're only shopping for things that cost a buck, you can afford to go a little wild, even if you normally live on a tight budget. So get ready, because you're about to have the cheapest, sexiest shopping spree ever.
1. This Penis Mold That's Great For Bachelor Or Bachelorette Parties
Two Years Silicone Penis Baking Mold Tray, $0.93, Amazon
This silicone mold is shaped like a penis, which makes it perfect for any bachelorette or bachelor party. You can also keep it in your baking collection for practical jokes, making it the kind of investment that keeps on giving.
2. These Super-Cute Nipple Rings You Won't Be Able To Stop Looking At
PiercingJ Pink Barbell Nipple Ring, $0.99, Amazon
These pink nipple rings are adorable and sure to look hot AF if want to show them off. They're also made from stainless steel, which is pretty amazing considering they're technically only .50 cents a piece.
3. This Sexy Harness Bra You Can Wear In And Out Of The Bedroom
PHOTNO Alluring Women Harness Bra (S-XL), $0.99, Amazon
You can rock this polyester, hollowed out harness bra during a steamy bedroom session or a photoshoot with nothing else on. But this bra is also versatile enough that you can wear it with your everyday clothes to add a little extra style to your outfit.
4. This Little Leather Choker That's Totally On Trend
Hosaire Love Heart PU Leather Choker, $0.90, Amazon
It's kind of amazing that this leather choker featuring a center set heart is only $1, considering it's completely on-trend right now. You can also wear it as a bracelet, making it an extra-versatile and stylish addition to your look. 
5. This Set Of False Eyelashes For Experimenting With New Looks
Hemlock Long False Eyelashes, $0.80, Amazon
Sometimes nothing feels sexier than a set of falsies, and this six-set of long lashes can be a fun way to experiment with them, just to get a sense of how they feel before investing in a more expensive pair.
6. This Silicone Ball Gag For BDSM Newbies
Cyan ST69 Slave Harness Silicone Ball Gag, $0.96, Amazon
Ball gags definitely make restraint scenes more exciting, but they get expensive, and if you're new to BDSM, you might be on the fence about committing to a pricey ball gag. At just $1, you'll more than get your money's worth with this basic silicone ball and leather collared gag.
7. This Crotchless Thong That Feels As Good As It Looks
Laimeng Pro Women Sexy Crotchless Thong (Black), $0.52, Amazon
Crotchless underwear is basically a kinky surprise you give to someone else when you're feeling really generous, and this lacy thong is no exception. But because this thong also features a string of massaging beads, chances are you'll love it just as much as your partner does.
8. This Fishnet Body Stocking That's Bold AF
Sumen Body Stocking, $0.89, Amazon
Not everyone has the confidence to rock a full-body, fishnet body stocking that just so happens to be crotch-less, but if you're the kind of badass who does, all the power to you, because this super-sexy lingerie means you're in for a wild night.
9. This Sexy Maid Style Lingerie For Role Playing
Tuesdays2 Women's Sexy Lingerie Babydoll, $0.55, Amazon
If you love dressing up and exploring new fantasies, this playful maid lingerie can help unlock that part of you in a way that's thrilling and extraordinary.
10. This Stress Ball That's Easily The Most Amazing $1 You'll Ever Spend
Gbell Mochi Seal Squeeze Toy, $0.10, Amazon
That's right. You're looking at a squishy, penis-shaped stress ball. Now that you know it exists, you'll never be able to go back to the way things used to be. Life as you know it will change forever. The question here really isn't what it does or why it's worth your $1. No, the real question is, why haven't you bought it yet?
Elite Daily may receive a portion of sales from products purchased from this article, which was created independently from Elite Daily's editorial and sales departments.