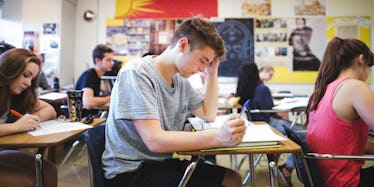 Angry Parents Want To Ban Sex Ed Program That Literally Tells Students What Sex Is
If you suspected the state of our children's sexual education in America is grim, you suspected correctly.
In California's Cupertino Union School District, parents are outraged over a new sex ed curriculum for seventh grade students because it contains accurate definitions of anal, vaginal and oral sex, Mercury News reported.
At least 150 parents attended a school board meeting, and almost 4,500 people signed a Change.org petition to reject the new policy.
Parents have called the program "age inappropriate" and suggested it contains scenarios "designed to increase curiosity on different sexual behaviors for immature minds."
Right... OR you could argue that the curriculum is designed to provide accurate, thorough education on naturally occurring feelings and behaviors of young people, regardless of whether their parents like it or not.
BUT I DIGRESS.
President and CEO of Sexuality Information and Education Council of The United States, Chitra Panjabi, understands the parents concerns and told Broadly, "We take the position at SIECUS that parents need to be involved in their children's sexuality education."
However, Panjabi did find that the descriptions of the three sexual acts in the program (anal, vaginal and oral) were actually "pretty factual" and believes knowledge is power when it comes to students making informed decisions about their sexual health.
Parents have called the program 'age inappropriate' and suggested it contains scenarios 'designed to increase curiosity on different sexual behaviors for immature minds.'
The program was designed as a response to the 2016 California Healthy Youth Act, which required schools to include "integrated, accurate and unbiased comprehensive sexual health and HIV prevention education at least once in middle school and once in high school," as listed on the act's FAQ sheet.
The law also states curriculums must include same-sex and unique sexual orientation information, which was included in the protested program's curriculum and is currently missing in traditional education.
The current sex ed curriculum hasn't been changed since 2003, and according to a teacher, it was very "heterosexual-oriented."
Experts and educators agree that rejecting the new sex ed curriculum will cause more harm than good to the children of the school district.
Barbara Wooley, an educator from Cupertino Union School District and member of the Human Growth and Development Task Force, told Mercury News,
You cannot teach somebody how to not contract HIV or any other STI (sexually transmitted infection) without telling them how one contracts an STI. You don't get your vaccination after you've been exposed to a disease. We hope with every fiber of our being that our seventh-graders are not sexually active but we also know in reality, it's going to come to a point where they need to know this information.
The vote on the curriculum itself came down to a 2-2 vote but needed a majority ruling to pass. Moving forward, the board will assemble another program, aiming to meet the state law standards and go through the vetting process again.
Overall, a skimpy sex ed lesson plan makes for a lackluster understanding of our sexual health.
In fact, Teen Vogue reported that there are only 24 states (and the District of Columbia) that require sexual education as part of a school's curriculum, and only 13 of those include medically-correct HIV education. Unfortunately, there is also a severe lack of LGBTQ-related education entirely.
Without knowing the facts, children are left to figure out sex on the bumpy, confusing road to adulthood on their own.
Citations: California School District Fails To Pass New Sex Ed Program After Parents Protest (Teen Vogue), Furious Parents Protest Sex Ed Curriculum for Actually Discussing Sex (Broadly)