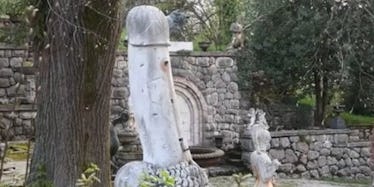 Man Covers 6-Foot Penis Statue With Orange Condom After Neighbors Complain About It
Twitter
What does one do when they're told they need to cover up a huge dick statue in the middle of their lawn?
Throw an equally huge "condom" over it, of course.
That's what art dealer Juergen Hesz did after the people of his hometown of Traunkirchen, Austria, were up in arms after gazing upon his expertly crafted penis sculpture in his front yard.
Standing at over 6 feet tall (about the same size as my penis), the statue was situated in Hesz's private garden, adjacent to a frequently visited hiking track.
The residents in the surrounding area clearly did not want to have the phallus exposed to the world every day and asked Hesz to cover it, so the public couldn't see it.
Hesz was a tad confused as to why the big, ol' penis effigy was causing such a ruckus at that point because it had been stationed in his garden for several months at that point.
It seemed like no one really cared, but I guess they changed their minds.
Mayorof Traunkirchen, Christoph Schragl, decided that it would be best to position screens around the phallic figure, at least to conceal it from a direct line of sight.
But then, Hesz met with Schragl after the screens were put up, eager to find a way to keep the penis in place.
The two came up with an agreement: The penis statue could stay erect, but it had to be covered with a bright orange, condom-esque tarpaulin cloth. However, it was only for the Easter weekend to provide "an Easter peace," according to Hesz.
Franky, Schragl was gracious Hesz met with him at all, as the schlong is on private land and technically could not be removed or veiled without Hesz's approval.
Hesz did have some fun when donning the penis with the "condom," getting a Friedrich Neitzche quote printed on the material.
The German words read,  "Gelobt sei was hart macht," which translates to, "Praised be what hardens you."
Get it? Hardens? Penis? Hard penis? Oh, Hesz, you clever guy.
After the Easter celebrations, Hesz claims he wants to auction off the statue, allowing the proceeds to go toward the community.
Apparently, that big, ol' dick is worth between €85,000 and €100,000 (loosely around $90,000).
I bet the people of Traunkirchen are super thankful for that penis now!
Citations: Man agrees to cover giant 6ft penis with orange condom for Easter Read more: http://metro.co.uk/2017/04/15/man-agrees-to-cover-giant-6ft-penis-with-orange-condom-for-easter-6577383/#ixzz4eWIrx6Om (Metro.co.uk)