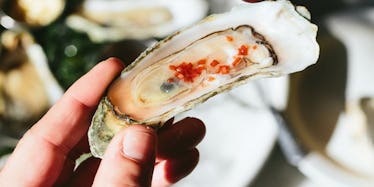 Oysters Only Make You Horny If You Believe They Will, According To An Expert
Andrew Cebulka
HAPPY NATIONAL OYSTER DAY, EVERYBODY!
Yes, National Oyster Day is a real thing and yes, it is today. Obviously, it was a hot topic this morning at the Elite Daily office. My co-workers and I were sitting around talking about the sexy shellfish.
I love oysters. I think they are members of that very niche group of foods that have somehow managed to be both yummy AND fun to eat. And that's why I think they're great for dates.
I mean, I know they're supposed to be aphrodisiacs but, if I'm being honest here, I don't think I've ever really felt much of a difference in my arousal after eating them.
My reasoning for eating them is because they're fun and they taste good. Also I like making jokes about how I'm getting sooooooo horny every time I have one. Lots of factors at play here.
I sort of just assumed everyone was on the same page as me until my conversation with my co-workers this morning. Turns out some people actually do think oysters legitimately make them hornier. And not just because it's a funny joke to say.
My co-worker Zara literally told me every time she has an oyster, she feels a tingling sensation in her nipples. My mind was blown. What in the world?! Am I asexual? Why doesn't that happen to me??! 
I decide to consult with Dr. Nicole Prause, scientist at Liberos LLC, to find out what's actually going on in our brains every time we eat oysters.
Her answer was short and sweet,
Oysters are a great placebo for sparking sex drive. The good news is that sex drive looks no different in the brain whether it's sparked by true love or placebo foods, so don't tell anyone and enjoy!
I KNOW. I broke her rule and I told you. And I'm very sorry for that. But I thought it was my duty to inform you (*cough* Zara *cough*) of the cold, hard truth: Oysters only work because we've been trained to believe they do.
Kind of crazy that a placebo could be strong enough to make your nipples tingle though, right?