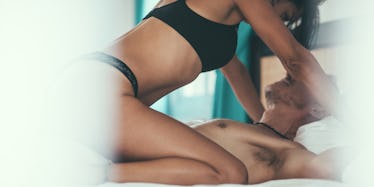 Dirty Talk Lines To Use During Sex When You Have Absolutely No Idea What To Say
Dirty talk can be super embarrassing. It's an elaborate role play, but I'm always worried that I'm going to say the wrong thing or take it too far.
Do I talk about his body? Is his d*ck as big as a skyscraper? That's not sexy. Do I talk about what I want him to do to me? A little bit of both? Do we play around with the dominant and submissive roles for a little while? What if we don't have the same fantasies? Is it even worth it?
Apparently, the answer to that last question is yes, as dirty talk can really improve and intensify your sex life, according to Medical Daily.
Relationship expert April Masini told Medical Daily, "Talking dirty can enhance sex because it's another layer of sexual behavior beyond physical sexual acts."
I once called a boyfriend "daddy" during sex without realizing we were getting brunch with my parents the next morning. Needless to say, it was the least amount of talking anyone has ever done over a very delicious pancake breakfast.
So if you want to know what to say in the sack (to avoid the same mistakes I made) here are 10 dirty talk lines to use during sex when you have absolutely no idea what to say.
Here's what to say if you're new at this.
You can 50 Shades of Grey it if you want, and start calling your partner "Sir." Additionally, experiment with saying please and thank you before you either give or receive pleasure.
What you're doing in this case is playing around with dominant and submissive roles, and seeing which one you and your guy fall most easily into.
Once you find what you like — your guy might enjoy being dominant and bossing you around during sex — you can step it up a notch in the role play department.
Some ideas that might work:
1. Ask him what he wants to do to you, or tell him exactly what you want done.
2. Tell him not to stop.
3. Tell him when you're coming.
4. Play around with name calling.
5. Tell him what parts of his body you like.
6. Describe his d*ck to him, but exaggerate it times 100.
7. Try short word phrases, like "harder," "faster," "softer," "right there," etc.
 So if you're a beginner trying to experiment with some dirty talk in the bedroom, this might be a good place to start.
Here's what to say if this isn't your first rodeo.
At this level, you're going to want to get more specific and more graphic. Once you've figured out what your partner likes, rev it up a bit.
Slip in to role play mode, get a little louder, and let your partner know how he makes you feel and what you're going to do to him.
Some ideas?
1. Tell him he owns your p*ssy.
2. Tell him how wet you are.
3. Tell him exactly where you want him to come.
4. Tell him how he feels inside you.
5. Tell him exactly what you're going to do to him.
6. Tell him how he tastes.
7. Tell him you love doing [insert act] to him.
Again, figure out what your partner responds to, and always play off of what turns him on.
Here's what to say if you're an off-duty professional dominatrix.
Most likely, you already actively use dirty talk in the bedroom. You know that 50 Shades of Grey was practically child's play and an embarrassment to the BDSM community at large.
If you're a pro at dirty talk already, only then may you use the word "daddy," but not if you're actually going to brunch with your parents the next day.
So next time you're looking to spice up your time in the bedroom, maybe try out a few of these phrases. Let me know how it goes. I'm trying to be part of your relationship! I'm lonely!